It was a weekend where we watched a lot of football. We listened to the high school games (Gate City, John Battle and North Stafford) on the iPad on Friday night; and then Saturday, Mike followed a couple of his favorite teams on tv. He loves the Ohio State Buckeyes since he attended school there, so he always watches them. Following that was the Virginia Tech Hokies.
I was b.o.r.e.d. out of my mind. The house was clean, it was raining too much to go anywhere, the internet was down, I had no book on hand that I wanted to read, and I hate watching television. In addition, Gracie was in a needy mood where she barked when I left the room. She and I were confined to the living room.
I decided to work on a project that accompanies our Little Bathroom Project. I want to make things for the walls of this little room versus buy things. Mike always has some plywood in the shop so I asked him if he had any small pieces. He did, and he painted it white for me. I'd planned on something with Chevron stripes and a big initial B but I scaled down the work involved.
I decided on horizontal stripes. I spaced then with a yardstick and taped them with green painter's tape.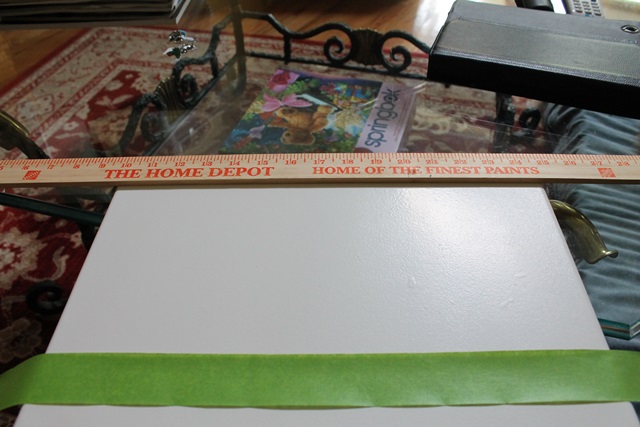 Here's the whole thing taped and ready to go. I actually liked it this way, but the green doesn't go in my bathroom.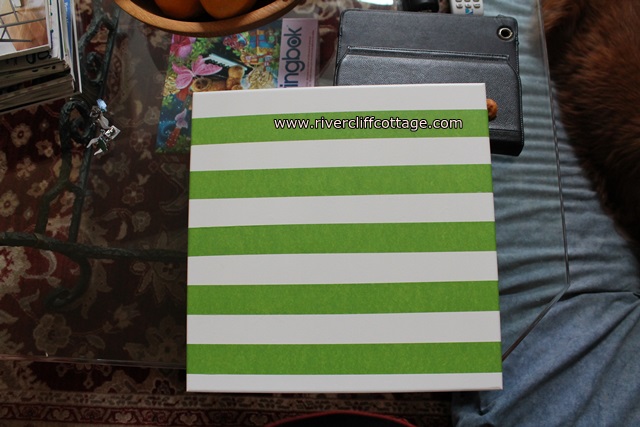 Couldn't spray paint this because I was in the living room, but I was able to sponge on the paint. It meant that the look would not be quite as crisp, but I'm good with that. Sort of scary looking.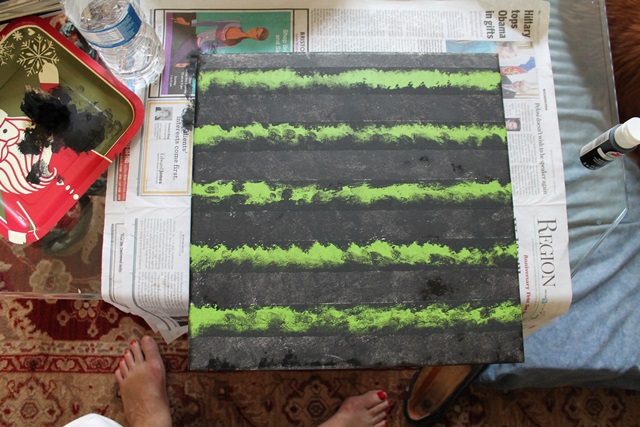 I'm pretty happy with the outcome pictured below. I'm going to put a small nail in it and hang this "birds on a wire" plate that is very easy to make. I'll tell you about it in another post.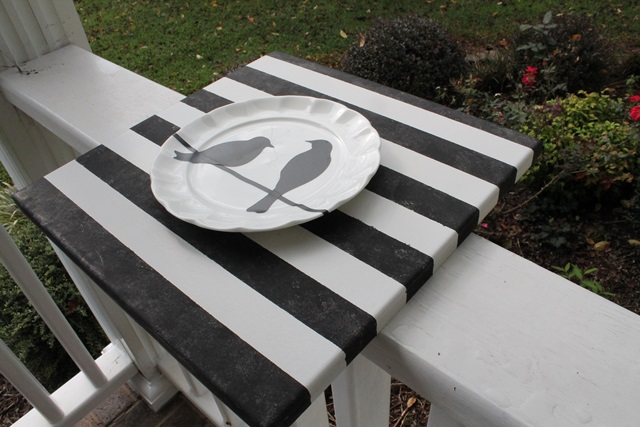 I'm actually working on the bathroom today. We're going to get it done sooner than I thought. I hope I can take a picture that shows how good it looks. If not, well, you'll just have to stop by and use the bathroom.

(97)