Sometimes I want to move. We're 17 miles from Walmart or Lowe's. We don't have a store. We don't have a local school, and we don't have a gas pump anywhere nearby. Yada yada yada…And don't get me started about internet speed!! You get the picture….Sometimes it is just too much. I start thinking shiny cars, restaurants and IKEA.
And then something happens that changes that thought. Yesterday was one of those days. It was the sweetness of hearing people I have "never not known" sing at the Mendota Homecoming.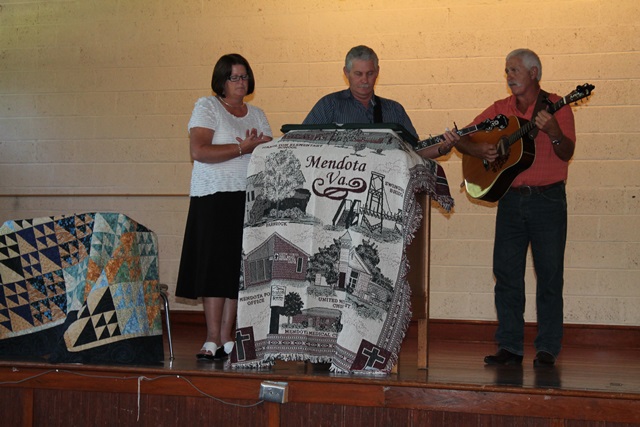 And a Southern Baptist morning delivered by a Yankee man called "Preacher Joe."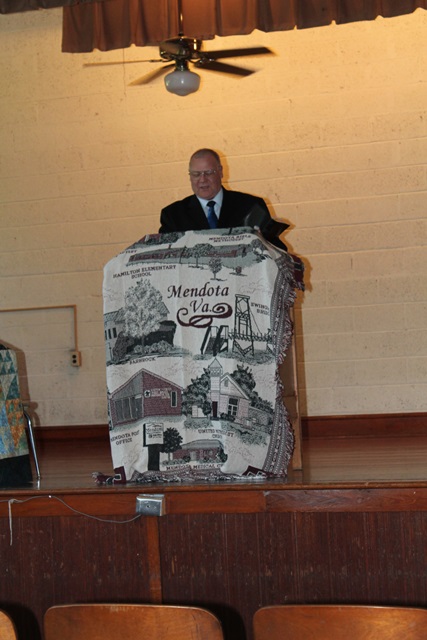 Of my sisters and cousin (Creolla "Chris" Litton Houser)…and by the way, I can't believe Pat weighs less than me!! I am going to photoshop my head onto her body.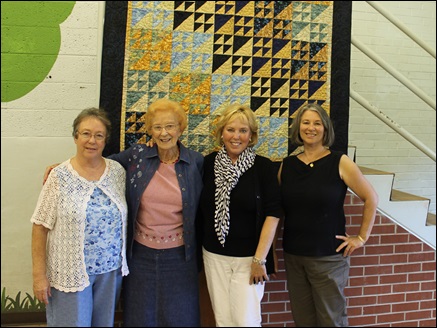 And all this…surrounded by the quilt drawing. The "I'll Fly Away" quilt.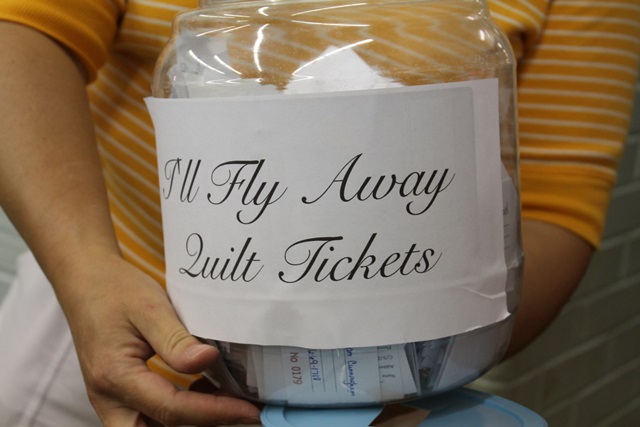 It was won by this wonderful woman…Ruth Rice. She's not in the picture as it's not easy for her to go out now.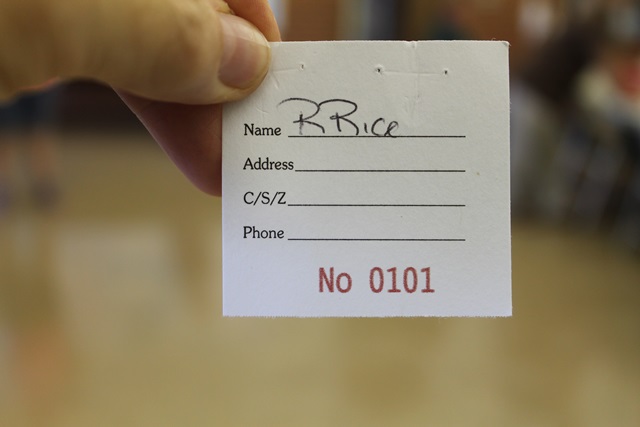 Her daughter, Patsy Rice Carrier, is another lifetime friend. Patsy and I sold a lot of quilt tickets for the "I'll Fly Away" quilt — 1523 were sold in total, and this ticket was the first one of the 100 tickets purchased by the Rice family. When the tickets were new and pulled out of the box and smelled like ink…when Patsy started writing down her mother's name…this was that first ticket "0101″.
We were so shocked because Patsy has never sold the winning ticket for the Mendota quilts, and I don't think any family members have won. To celebrate, we took a picture of Ruth Rice's great grandchildren. Sweet.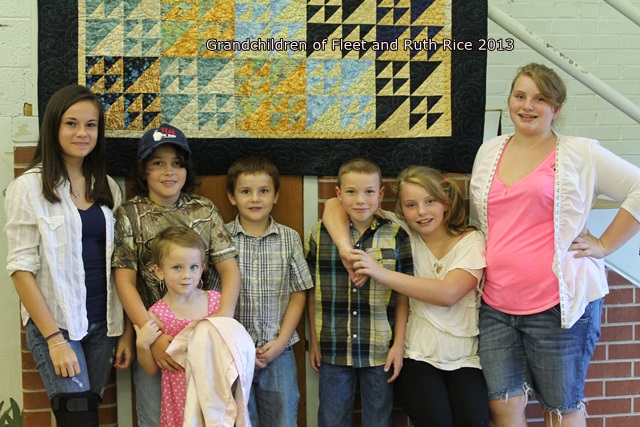 We were so happy! And then, an amazing act of generosity occurred. Ruth's family donated the quilt back to the Mendota Cemetery to reraffle. And we're doing it!! The quilt is still "I'll Fly Away" to everyone else. To me, however, it's changed…it's "Ruth's Quilt."
I know something about the generosity of Ruth Rice. I was 15 years old when Daddy died. Mom worked until 8 pm at the local "Fleenor's Store," so she got home too late for a real dinner, and for a period of time after Daddy died, she was too sad to cook anyway. We just "got by" for about two years, but I found special friends that helped me along the way. The Rice family made a place for me in their heart and at their dinner table. I wasn't a weekly guest…I showed up several times a week…always at dinner and more often in the winter than in the summer. I just slipped in near 5 pm. I remember the house as warm, cozy and noisy. I'd eat and then get ready to leave, and Ruth would walk me to the door. She'd hug me hard, and I'd bury my face in her "bosom" and breathe in that love that was "there for the taking."
Rewind to present day. I can never leave this place. I could travel for miles and miles in a shiny car, and pass lots of Lowe's and Walmarts, but I would never find a place like Mendota. This is the reason people who leave here keep coming back. Once you've got that Poor Valley Mud on your feet…you will never wipe it off.
So, I'll be buying a lot of tickets for Ruth's Quilt. I only bought a limited number of tickets for "I'll Fly Away" because I sold so many online that I was afraid you'd think I cheated if I suddenly won. This is different now. This is Ruth's Quilt, and I am in the game!!
Of course, I'll sell you a ticket, too! It is for the Mendota Cemetery after all!!
(218)