Two things happened in the last day or two that made me feel good.
The first thing is that Gerald, with me helping, opened the hives to see how much honey was inside, how the bees were doing and to treat for mites — varroa destructor is an external parasitic mite. Little bloodsuckers. I hate them. We've never treated our bees in the past, as we'd hoped that the hive would be healthy enough to sustain, but after losing all of our bees, we're not taking any chances.
We got a nice surprise when opening up the hives.."Argh" Gerald said as he picked up the heavy super. It was heavy with honey. A good thing.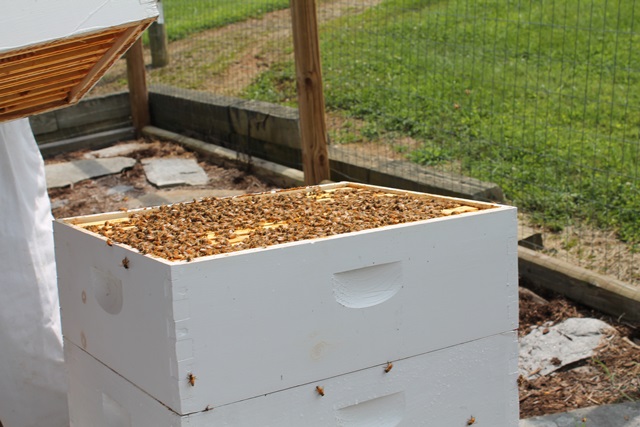 See the super (box of frames) in the upper part of the picture below? We installed that on top of the hive so the bees have more space for their honey. These bees will have plenty to eat and no mites. Hope!! Last year we were told that the fall honey flow was not a good one. We're hoping this doesn't repeat. At any rate, I'll continue feeding these bees through October to ensure there is adequate food for them in the winter. We want to give them every opportunity to survive and succeed during the winter months.
>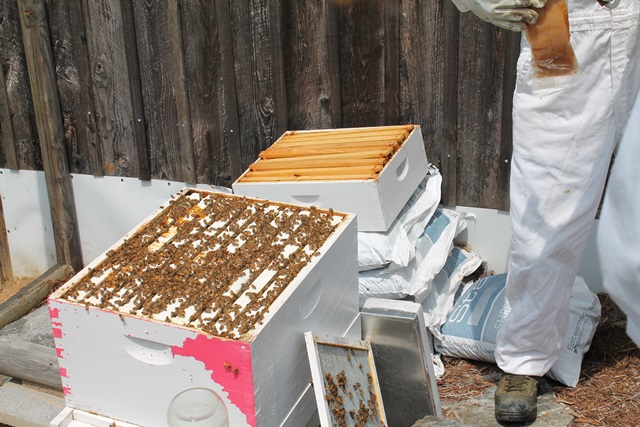 So at least for now, we're beekeepers again. Mike took this picture of Gerald and me before he high tailed it away from the bee enclosure. He's afraid of bees. Lots of people are. I don't blame them. One stung me last week for the first time in 18 months. It hurt for about 36 hours.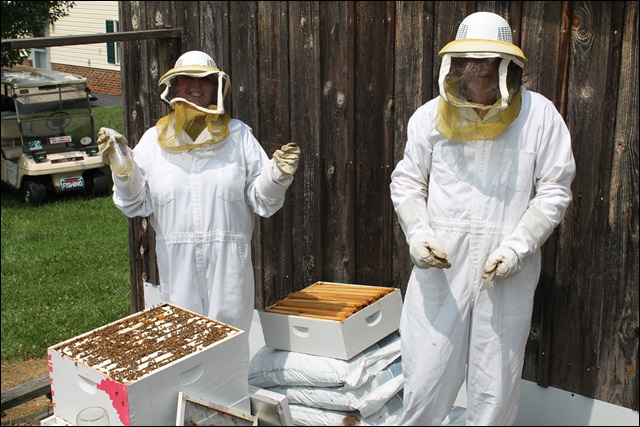 My second good thing involved mostly work with quick results. Concurrent with our bee activities, I scrubbed the white vinyl fence around our backyard. Many of us dream of a little yellow house with a white picket fence. I did anyway. No one told me about the mildew. See the green on the "pickets"?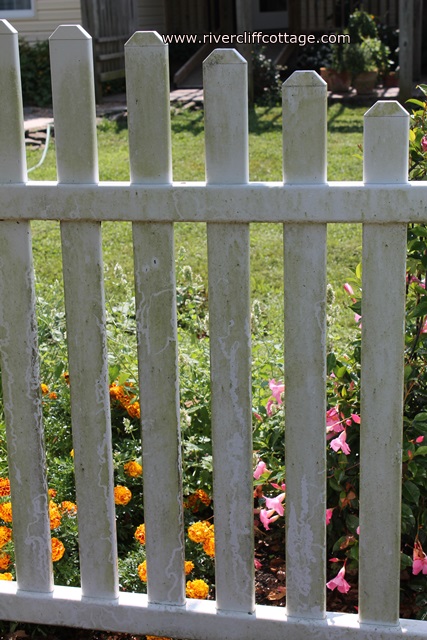 More green in this next picture…it was actually worse in many places. This isn't as bad as some years.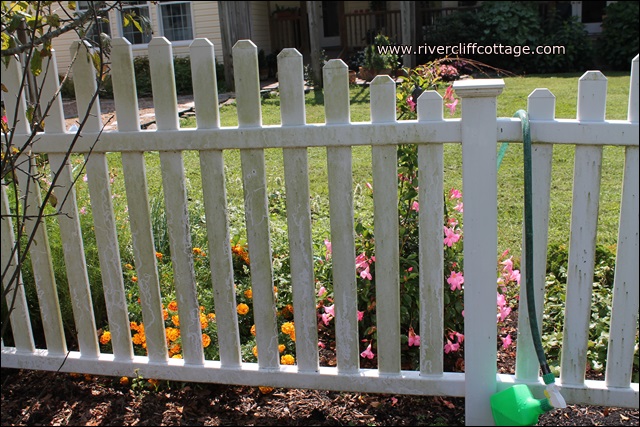 I took a Windex bottle that was made for attaching a hose and spraying windows. However, instead of window cleaner, I put a half bleach/half water solution in the bottle and sprayed the fence. And I rubbed on it with a sponge in the really dirty spots. It doesn't seen to harm the plants.
Here's how it looked after this process…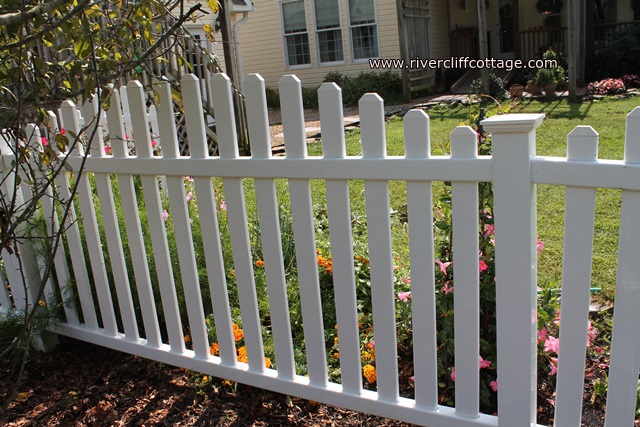 Woohoo…I think that painted fencing is prettier than vinyl fencing, but when it comes to keeping them up, the vinyl wins. Just some elbow grease and bleach, and it looks very nice.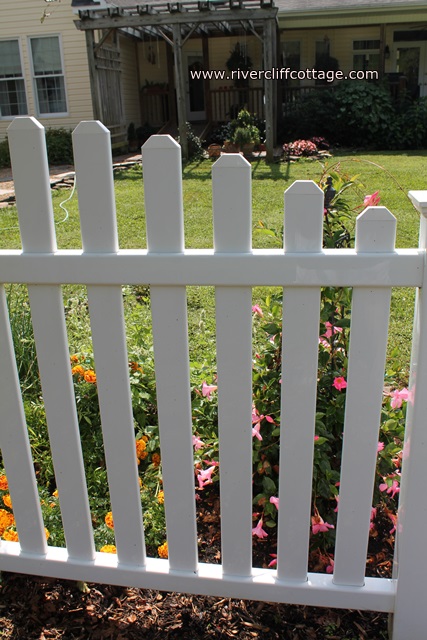 I slapped our marigolds from our JSB Horticulture Class in the dirt early in the spring…I almost gave these away. I'm glad I didn't because they look so cheerful.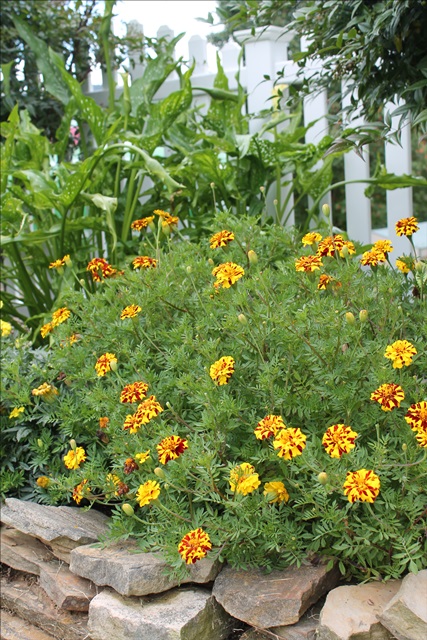 So..there's some Rudbeckia my sister, Pat, gave me a few years back, some marigolds and a Cala Lilly my sister, Nancy, gave me. My sister garden. All kind of wild looking.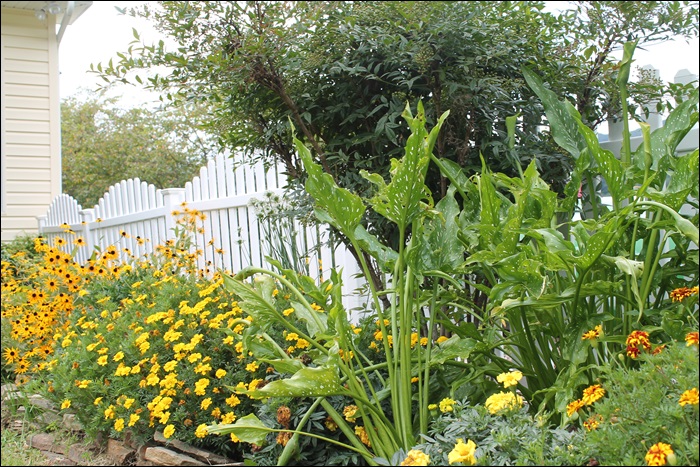 I'm going to work tomorrow and then be back at my Little Bathroom Project with the "Eternity" paint that is taking me an eternity to finish. I've still got the commode wrapped up like a giant tomato in red Saran Wrap.
(121)