Happy Labor Day Weekend! It's Friday night, and I've managed to turn cleaning the house into an all-day affair that will not get finished until tomorrow.
And now, I'm blogging and listening to Gate City on the road at Richlands by streaming the broadcast. Technology rocks. I'm also tuned into John Battle at Abingdon. And I'n pulling for the North Stafford Wolverines where my nephew coaches!
First, here's a bathroom update. I'm going to tape some tonight to paint the trim and Mike will eventually get the lights, plumbing, etc. installed. We're not very fast. Mike's son, Marc, and his family as well as Mike's other son, Aaron, will be in for Rhythm & Roots so that's our goal to have this done. Meanwhile, I've got to clean in there. Either the cat has peed in that little room or something is just stinking. I thought it might be the commode which remains wrapped in Saran Wrap, so I gave it a flush. Didn't seem to help, so I'll be visiting with vinegar and/or bleach in a few minutes. Yuck.
I'll wear gloves so it doesn't mess my manicure. Did you see the post last night with Anjelah Johnson? A hoot. If you did not see it, go here! She's a great comedian. Must.see.
Here's the sad state of the bathroom..there's no light in there so it's not very good. I'll have to hang a light on the ladder when I start working on that in a few minutes, hours, maybe tomorrow…oh who cares… in a bit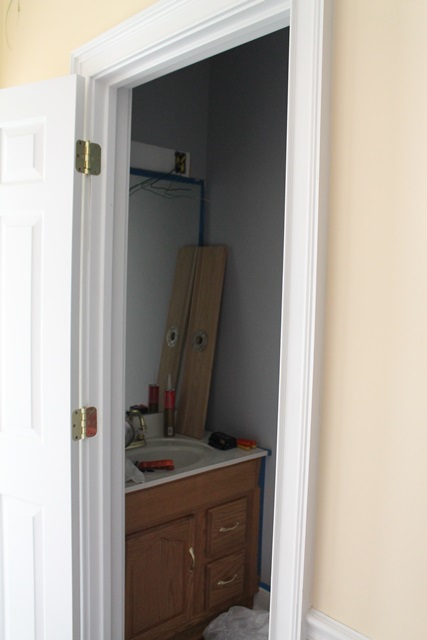 I'm sidetracked on the bathroom today, because I started fooling around with plates. I love dishes. On the wall, on the table, in the closet…it doesn't matter to me. Here's some marjolica plates I bought in Middlesburg, Virginia about a gazillion years ago…nice…but where's the creativity?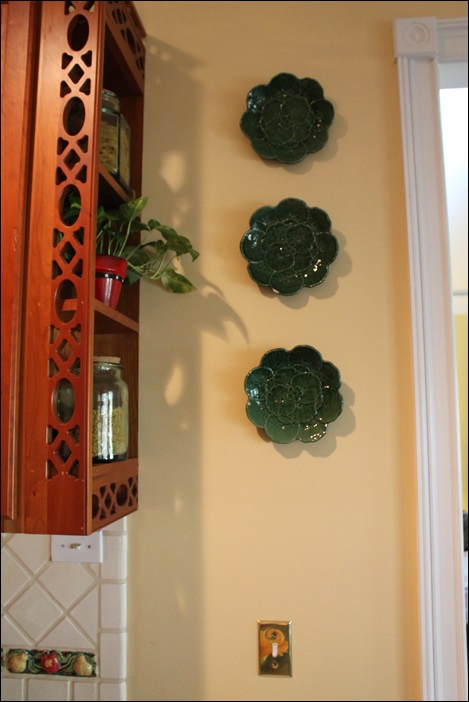 Oh…maybe it's here…or is this just a diversion to keep from mopping the floor? Hmmm…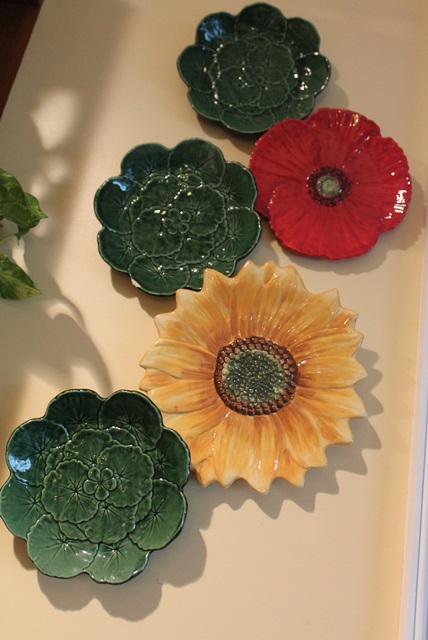 But I do like it. It's more cheerful, and that's my decorating style.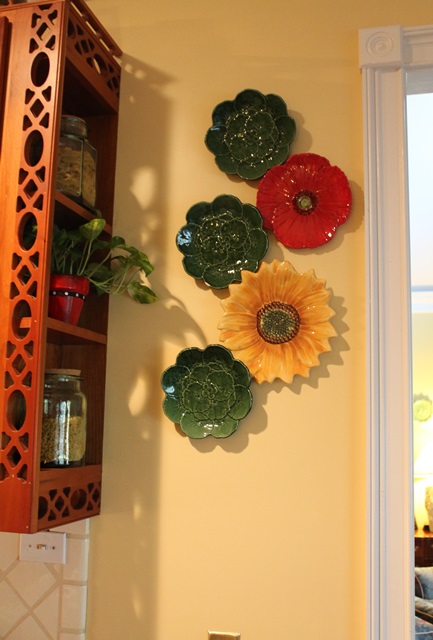 But…in looking at the picture, I realize I need to shift my yellow and green plates so that the green plate is on the opposite side. I'll do that tomorrow and take a really, really good picture!
Meanwhile…Gate City is behind. I have to go lean into the iPad and give my support. I heard the word "Gardner got hit." That's Neth. He's the one that helps us so much here at RiverCliff Cottage. We're crazy about him. I'm totally distracted!
(443)