Our house has a front porch, and people often comment about the view when they visit.  Words like "I'll bet you sit out here and really enjoy the view, don't you? "    We do.   Sort of.   Actually, we are usually working so hard that when we do take notice, it's a brief moment of appreciation while we're outside doing something.
Just one week ago, we had raised beds full of potatoes and onions.  This week, all that remains is cucumbers, some peppers and my volunteer pumpkin plant.    We've got all the potatoes out and all of the onions out.    I'm going to plant something else in those five empty beds next week.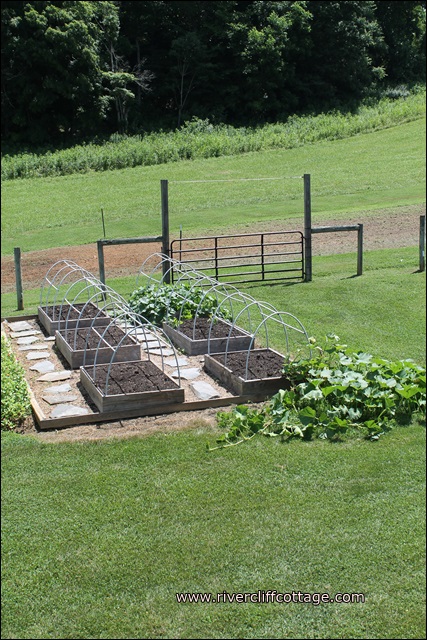 The potatoes are all safely housed in the garage refrigerator or our neighbor's root celler.    Part of the onions(the white ones) are in the frig and the others (the yellow ones) are lying on the steps and picnic table drying a bit.  I'll tie them and hang them on the back porch.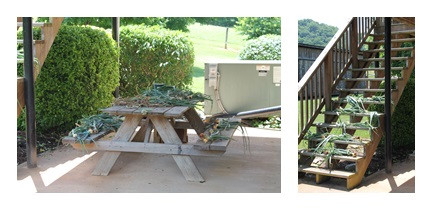 We've also had lots of weeds! Fortunately, young Oth helped me with the weeding on Saturday.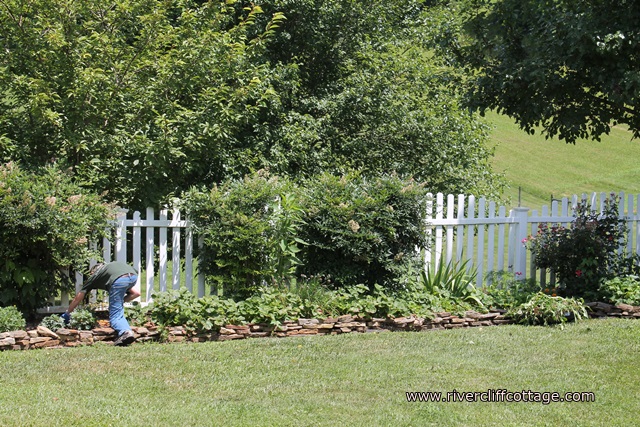 His brother, Neth, has been working one day per week helping this year, and Oth likes to tag along. Neth and EJ, the other brother who is younger than Neth but older than Oth, delegated the weeding job to Oth because "he's lower to the ground." He doesn't mind. He earns extra money and then he and Mike go down to the river to fish.
Looks nice after Oth weeded, doesn't it? I really like the mandevilla. By June, the perennials are not putting on quite as good of show, and the annuals have to work harder. This mandevilla does the trick, and the cats haven't been able to kill it. Speaking of cats…did you know that the Elk Knob employees who are working on the Barnrock Road project in Mendota saw two black mountain lions? A friend of mine, Dreama Dean, saw a large mountain lion across the river from us but that was 20 years ago. I feel fortunate to live in a ecosystem that is supporting not only our bald eagles but a diverse animal population. In my yard, however, we mostly support a LARGE and HAPPY skunk population with an occasional possum. If you try to break in a house in our area, there are all the normal dogs, guns, security systems etc….but the real deterrent is that you will probably get skunked! We don't step outside at night. Too risky!

Back to the garden and my mandevilla….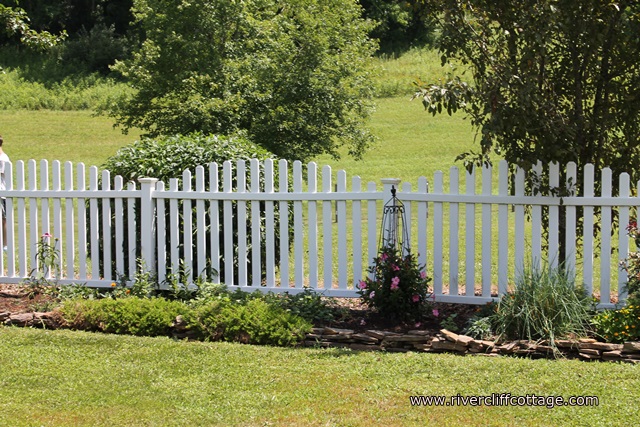 And speaking of working…I have been working so hard on dragging stuff out for my future yard sale. I've postponed my yard sale twice. It's going to happen in mid-July now. I've been removing things from the attic above the garage, the guesthouse, and the attic above the house. Too many hiding spots. Gerald, my brother-in-law, was shocked at the amount of stuff. "Where did all that stuff come from?" …that was his question. Here's a couple of pictures just to give you an idea of the magnitude of junk.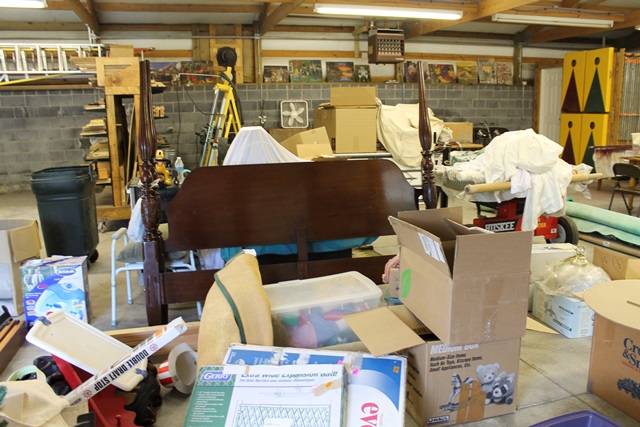 And another…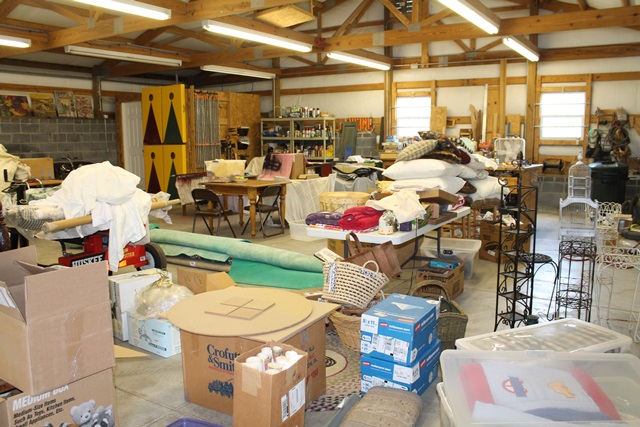 My garage sale is household items, so I'm grouping them by use such as kitchen, linens, fabric, living room, etc. I've spent most of this weekend going through boxes looking to see what was in them, washing what was in the box and determining if it goes in the garage sale, goes in the trash, or is something I want to keep.
I am pooped!
(423)