Now here is a riveting title to a post…"Cleaning the Back Porch!"
This afternoon I came home from work, and I was energized, but there wasn't really anything I wanted to do inside the house. So, I went outside. The back porch sure needed attention. Here's what it looked like. After winter, does your pack porch look neglected? Mine sure did. It was a repository for stuff, and there was pollen everywhere. Yuck.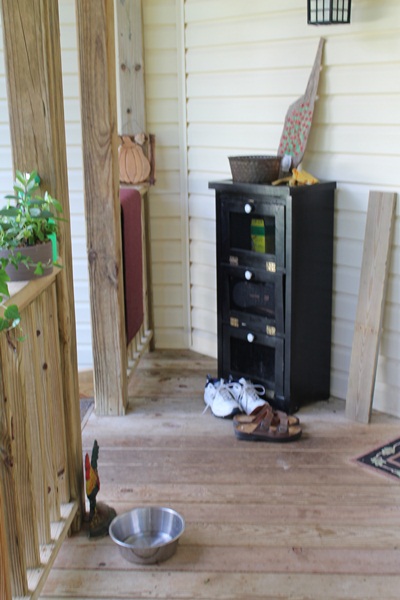 Shoes left out, old rugs, board (another project I'm going to work on), and good grief..there is an old rooster doorstop that I've been walking by daily and haven't noticed.   Nastiness!    And what is it with the grill cover on the swing in the picture below?   It's been there for a month. This could turn into an "I hate my husband post" if I think about that grill cover lying there so long. He is so lucky to be married to someone who is perfect.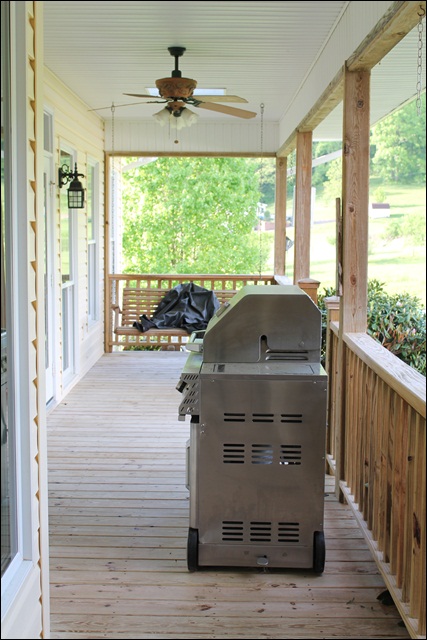 I threw everything off the porch and got out my old Windex bottle. I've had this for years. I use a product called Squeegee Off which is a concentrated window cleaning liquid. I put about 1/4 of the Squeegee Off in the old Windex bottle and then fill with water. Add this to my hose and I have instant window/porch furniture/etc. cleaner!!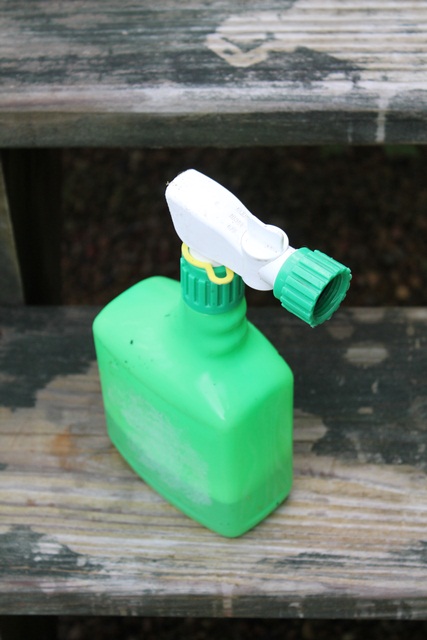 After spraying the porch, I also cleaned the plastic adirondack chairs and put them on the porch. I made a little sitting area. I added one of the trees off the patio that I got at Lowe's for $2 at Christmas. They went from my mantle at Christmas, to a pot on the patio during the winter months, and now they are stylin' on the porch.  Use what you have.   
"Use what you have."   That's my mother talking!   Mother…what are you doing inserting comments in my blog???? Happy Mother's Day to my lovely mother who has been gone almost ten years. Her voice still remains a part of my life.
Here's the chair I was talking about before Mom interrupted….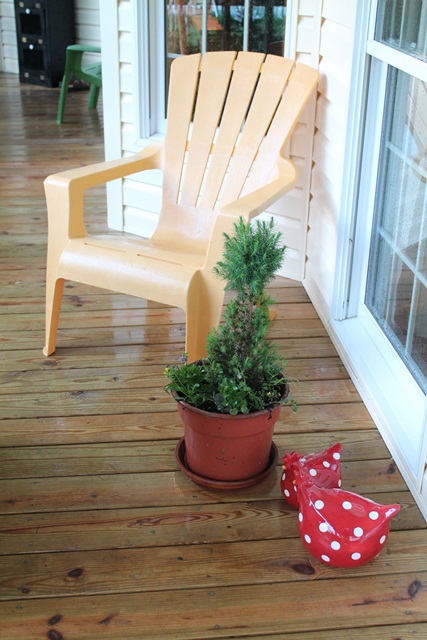 Those chickens really brightened up with the window cleaning solution. Here's a picture of the porch all washed and clean. I took the grill cover and threw it in the washing machine with vinegar. Drug out last year's pillows and put on the swing. I'd had the ferns hanging on the pergola so they could absorb rain today. They are back up now.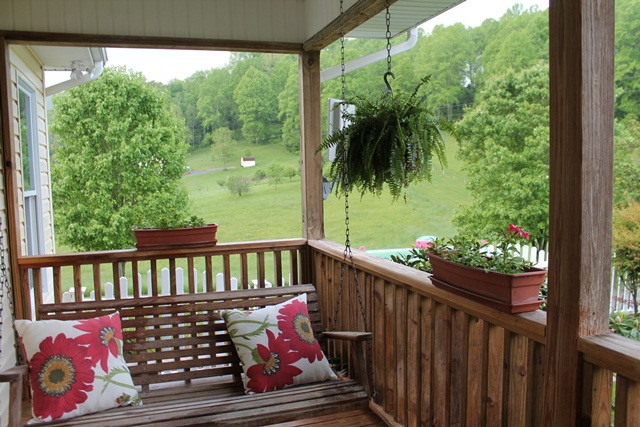 Whew…I feel better with this porch being clean. Here's something else I did today. Pulled out my cousin Randy's old boots that I've had for about 7 years. I use them for hen and chicks. I've got to add more dirt but I stuck a few "hens and chicks" in. These will look really cute in about a month. I'll show them to you then.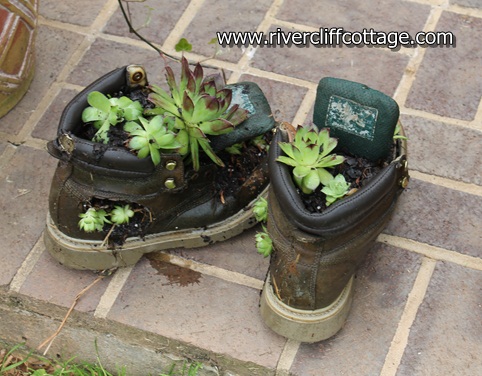 (740)