When I knew Mike's knee replacement surgery was scheduled for April 1, I made my mental list of all I wanted to accomplish while off work to be with him.    I should have known better.  Never.make.a.plan.
I stayed in the hospital at Holston Valley  each night and most of each day.  I came home once and showered.   This wasn't so bad since he checked in on Monday (really early…like 5:15 am), and we were headed home by 4:30 pm on Wednesday.    Upon our arrival home, we switched up all the sleeping arrangements; and, somehow, in a house with three bedrooms, a sofabed in the den, and a blow up mattress for emergencies–and just two people– I ended up in the living room on the couch (not a sofabed).    I've been there every night until last night.  Suffice it to say, I haven't had a good night's sleep for two weeks.  Last night was THE night to get back to a real bed, and then it stormed and Gracie, who is afraid of storms, started whining and shivering.   I got on the floor –with my pillow–and slept on the dogbed with her.   We're both tired today.
I couldn't NOT do this.  Yesterday was a hard day for this dear girl.     She panted all Monday night and she fell.   Twice.  Mike looked at me and said "I don't want her in pain."   I watched her all night.  I texted Dr. Steve in the early, early morning hours and told him that I thought it was the day.   He said to meet him at 9:30 am at the practice.
The day.  The day Gracie would no longer limp.   The day I would no longer have my dog after this 15-year love affair we have shared.   Spending time with this dog was one of the primary reasons I wanted to work less.    It's the reason my house is a mess with scatter rugs all over the hardwood since she can't stand on a slippery floor.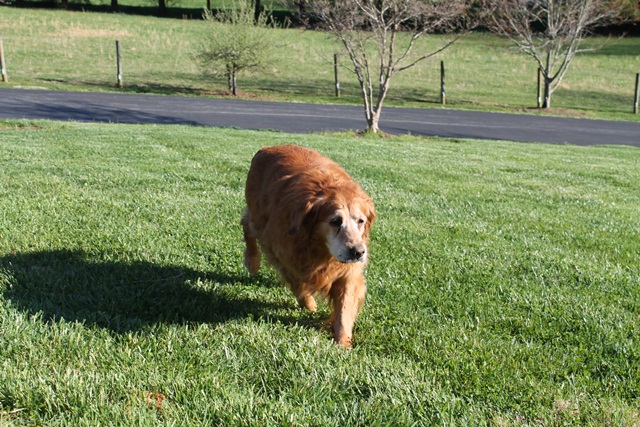 Dr. Steve understands this, and he did not want her to have to walk on the slippery floors in the practice, so he asked me to keep her in the truck.  He came out and listened to her heart.  She looked directly in his eyes.  He said "Eva, today is not the day.  Let's take her out of the truck and watch her walk."   She walked about…he looked in her mouth…felt of her many lumps…pressed on her tummy.    We are no longer focused on fixing Gracie — we want her to be comfortable.   She was dehydrated and she was a little sore.
We headed home.  We have some additional medication for Gracie, and she's eating well and drinking a lot of Pediatric Electrolyte mixed with organic chicken broth.    She's back to barking at me and wanting to ride in the truck.  And eat cookies!
I like this picture.   I took it over the weekend; and in it, she doesn't look like a 15-year old dog.   You can still see that she was very athletic.  She was such a swimmer and runner.  She was always my snuggler.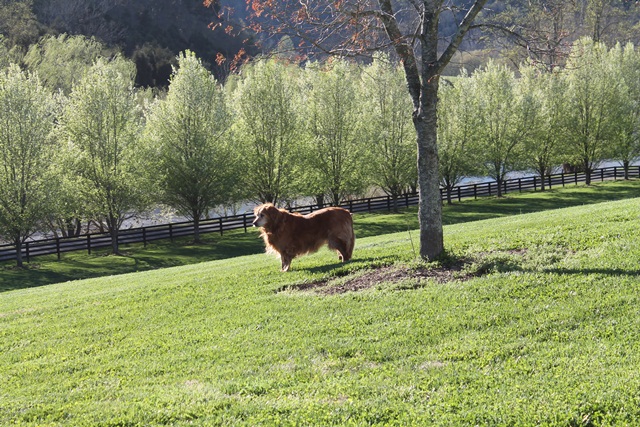 Do dogs go to heaven?
(760)