Here's a picture of my father's father, Peter Livingston Barker. I'm hoping that I can get more information on him soon, but for now, here he is. He's pictured with his sisters.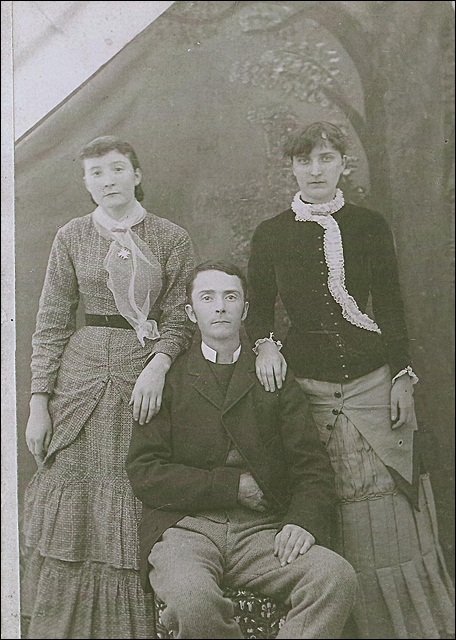 I was at my cousin Julia's a couple of years ago, and my other cousin, Forrest Barker (called Brother Barker), referred to Peter Livingston Barker as someone who liked to write or speak.  Maybe so…read on what he said about Mendota, Virginia. So hopeful…I'm mixed as to whether I'm sad that little or none of what he talked about is here or perhaps I'm grateful.
Here's what I found on the internet (and you know the deal…if it is on the internet, it must be true! Ha!) that my grandfather wrote. Courtesy New River Notes Web Page by Jeff Weaver: An Economic and Social Survey of Washington County, Virginia. University of Virginia Record Extension Series Vol. XVII, No. 6, December, 1932 by Ben Bane Dulaney
Mendota
By P. L. Barker
Mendota is situated on the North Fork of Holston River, in the west end of Washington County, Virginia, about half way between Bristol and Gate City, opposite the noted Kinderhook Farm and immediately on the Southern Railway.
The excellent river-bottom lands at Mendota were patented by the Commonwealth to Thomas Kendrick, William Todd Livingston and others, and the home of Peter Livingston was but a short distance below Mendota at the time the noted half-breed Benge made his raid thereon in the year 1794, burning the homestead and carrying off the wife of Peter Livingston. After several days hot pursuit the Indians were overtaken, the savage Benge was killed at long range by Lieutenant Vincent Hobbs. Mrs. Livingston was struck with a tomahawk by an Indian and left for dead-the remaining Indians fleeing-but after being senseless about an hour was revived by the rescue party.
The river-bottom land opposite Mendota, some time previous to 1860, became the property of Adam Hickman, a native of Kinderhook, N. Y. Upon his acquisition of this property, he gave it the name of Kinderhook, and from this farm Kinderhook magisterial district derived its name.
The post office at this point was for many years Kinderhook, but the name was changed to Mendota by Henry C. Holley, who for many years was a merchant at the place.
Hamilton Institute was established at Mendota in the year, 1874. It drew a large, earnest and determined patronage from the Cumberlands on the north to the Blue Ridge Mountains on the south, and is said to have sent more Christian young men and women into the professional and common walks of life than any other institution of learning of its class in its wide territory.
As to the old settlers, it may be remarked that it was no ordinary people who pushed the frontiers back and settled this section. They were of the best stock that Virginia had to offer, and were as high-minded and far-seeing as they were brave and adventurous.
Mendota is the center of the glass sand industry in Virginia. It has one of the finest deposits of silica, used in the manufacture of glassware, pottery, etc., in the United States, said to be inexhaustible in quantity. While industrial development at present is in its infancy, the great number and variety of natural resources, the place being touched by a river and great trunk line railway, it is destined to increase greatly. At present there is considerable prospecting for oil and gas in this vicinity. The town has two flour mills, planing and lumber mills, five stores, and is served by a high-powered electric line, the East Tennessee Light and Power Company, a subsidiary of Cities Service.
The Blue Grass Trail, State Highway No.42, has lately been constructed into the town. (218)