I always have gift wrap on hand, but the large rolls of gift wrap have been stashed in the attic. It's a mess up there. Scary stuff.  Cleaning the attic is one of our long-term projects following a spring garage sale I'm going to have in Mike's shop. That garage sale is yet another long-term project. It never ends.
I asked Mike to make me a box out of some leftover plywood he had on hand. My plan was to move the giftwrap out into the open as part of our home office reorganization/redo project. If your new to the blog, I've written about it here.
Here's what he made which I spray painted. I'd meant it to be taller, like an umbrella stand, but he only had short pieces of plywood on hand. 
It's a  little plain.    I didn't mention it to him as I didn't want to hurt his feelings.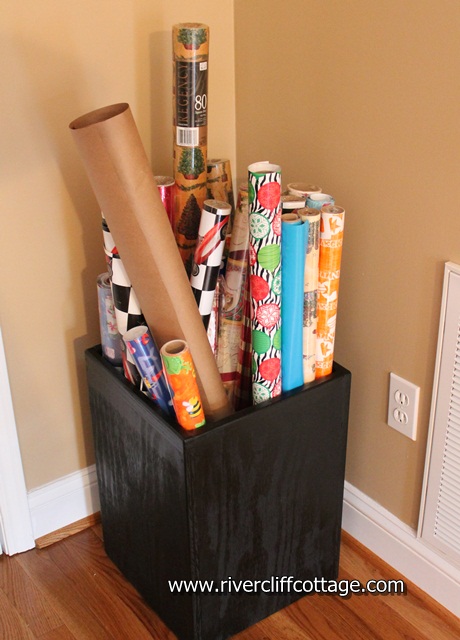 I decided to put the word "WRAP" on the box.  Liven it up.  I decided this while we were making a trip to Lowe's last week in Kingsport. We don't need much of a reason to go to Lowe's (my True Love)  but I was especially excited because the Kingsport Lowe's is near Michael's Craft Store , and I had these letters spelling around in my head…"W.R.A.P" Here they are…I found them for $1 each. I had a 40% off coupon for one of them, and I saved a whopping 40 cents.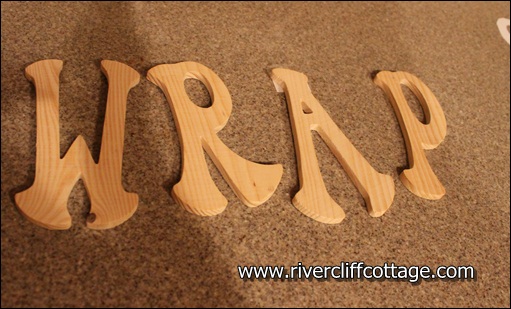 I spraypainted the wooden letters red as well as made  patterns out of scrapbook paper.  This was the tricky part.  I used both scissors and an Exacto knife to get a neat cut on the paper. Mike asked me if I was related to Michael Jordan when he saw me working–apparently I had my tongue stuck out.   Whatever. 
Then I used Mod Podge so that the paper would adhere to the letter.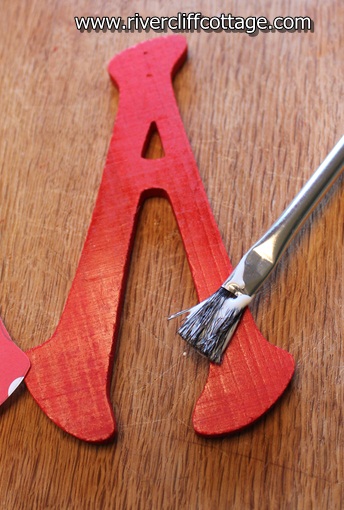 Next I pressed the paper onto the letter and put a top coat of Mod Podge.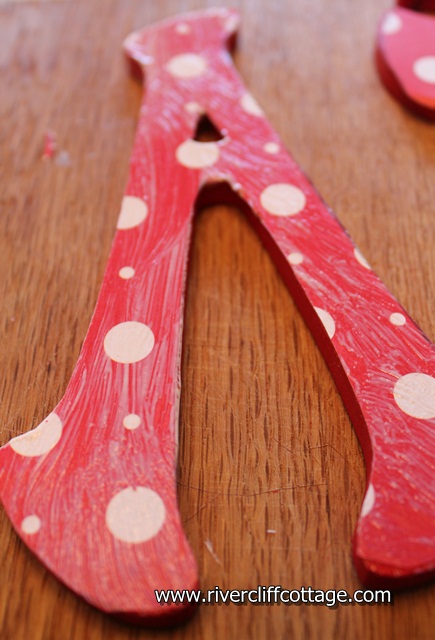 I could not wait to hot glue these to the black box.    Ideas of thousands of Pinterest pins were floating in my head.   I flew up the stairs and then.. I could not find my glue gun!   No where!  I looked and looked!    When I was organizing last week, I saw my current glue gun as well as a brand new one I'd lost before. Now, they are both missing!    I'm wondering…is the U.S. government really after our guns?…and they've started with my glue guns?  Is there a conspiracy? Or did I possibly throw them away when I was doing a mass throwaway last week? Hmmm…
So I taped the letters.   I'm glad they are only taped because instead of spelling "WRAP"…I've spelled "WARP". This project is going to wait until I find my glue gun and can adjust the letters.   Also, there's no natural light in the office right now for a decent picture even if I had my glue gun.  Here's the awful, humilating picture.  The naked truth.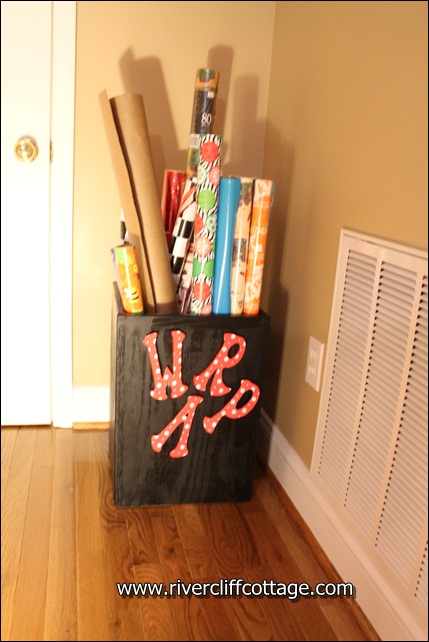 I think I can fix it tomorrow and maybe I can find the glue gun if I look again.
Here's something that turned out better. After Mike accidentally destroyed my pretty Target  lampshade, I went back to Target, and yes! There was one more!! I bought it and then, even though I hate buying things I already have, I bought the lamps that were with it.   I love the clean way the look.  This room is going to look good once I get the funny red sofa (that I'm not picturing if you notice) slipcovered in a nice, crisp denim.   Easy to care for.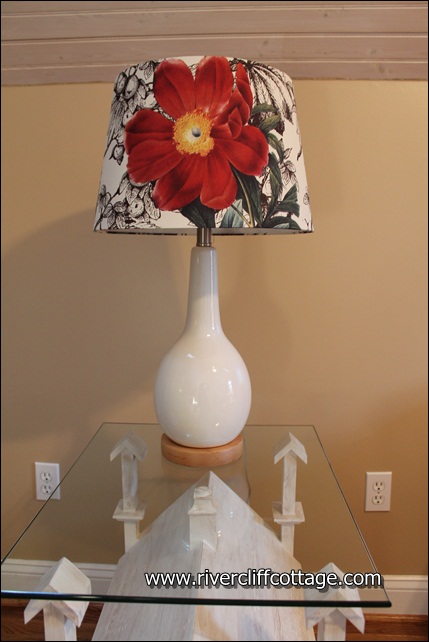 Mike and my brother-in-law, Gerald, made this little table.   I love it.  Would you pay $225 for it?  I thought not.   Drat!
Are you sure?   Here's another picture of it?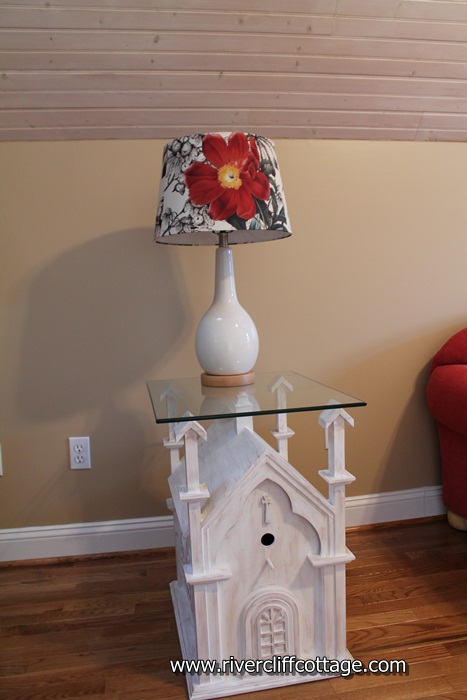 Finally, this is in my kitchen now. I posted it on my Facebook page so it's really old news. Everyone has times in their life that they don't fit in. It still happens to me, and I still have that awkward moment when I wish I'm someone else. But it's okay because Dr. Seuss said so!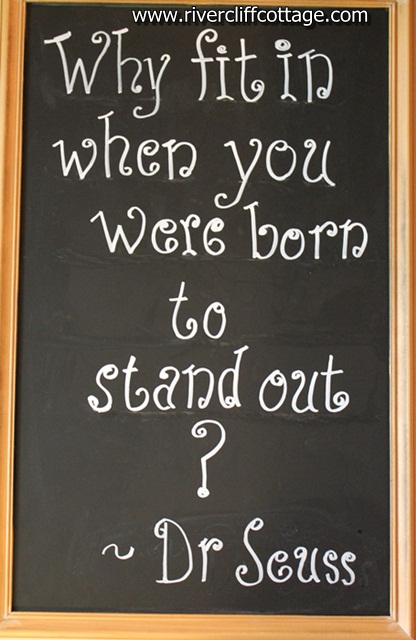 (98)