First of all, thank you to those who viewed RiverCliff Cottage in January. My little blog had 1300 views for the month according to Google Analytics. Do you know how good you have made me feel? I am no one, but you took the time to look me up.    I am so thankful.   Basically, you're like a piece of chocolate!  Yum! You are delicious!
On Saturday it snowed, and then it continued to snow until the early afternoon on Sunday — a day to stay at home.  I know I'm repeating myself, but let me say it again…I love snow.   We did not have church.  My worship experience occurred outside this morning with the camera following a breath of clean mountain air. Thank you Lord for showing us this once again!!!    
Midday, I went upstairs and surveyed the office reorganization mess. I orginally talked about our home office reorganization here. Determined not to continue talking about it yet not doing anything, I decided to get the "Office" part of the home office at least 90% complete today.
I think I'm at 90%. Here's what it looks like as I write this post…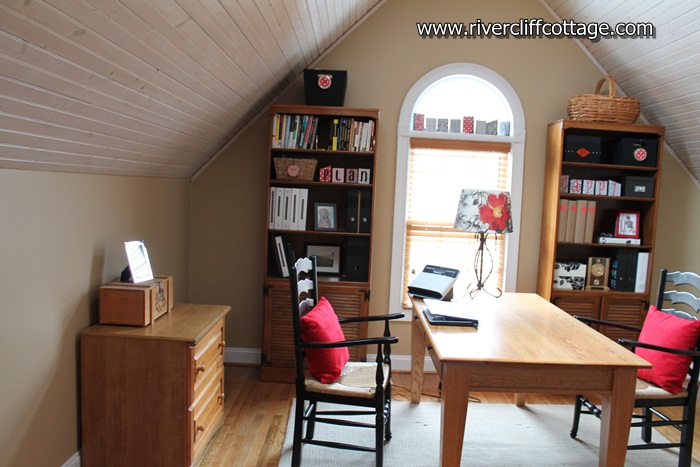 Here's the before of Michael's side of the room…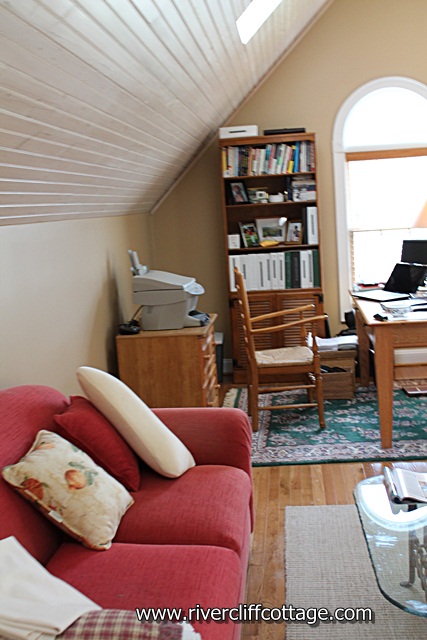 Here is the after of his side of the room…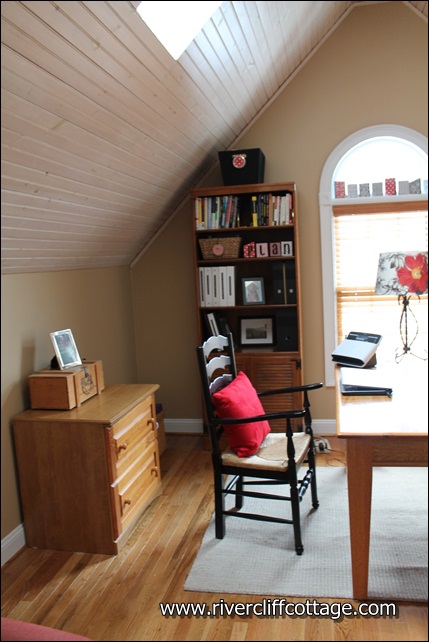 I'm happy with the results.   Most of it was pretty straight forward — cleaning, sorting, discarding and organizing what was left.   The printer and old desktop computer and monitor have gone to Office Depot. When we made the purchase of the scanner (here),  Office Depot accepted them for recycling. Mike is a "keeper" and he had about 100 woodworking magazines which I happily discarded!    It freed up space for notebooks on our house maintenance, health care, etc.  to be put out of sight.  
Now that I've cleaned and organized the area, you can see the nice desk as our shared workspace. I love this desk!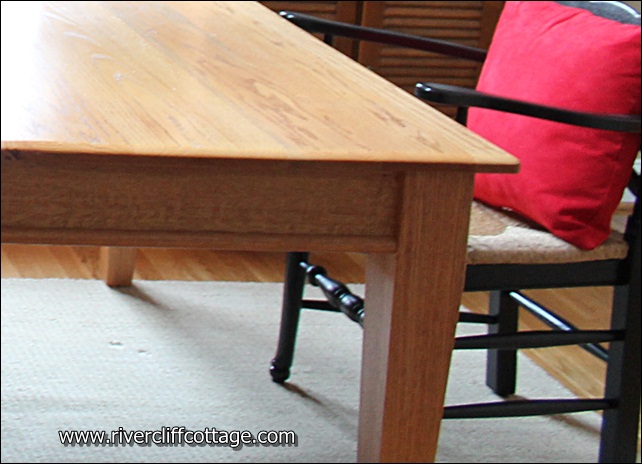 Mike made the desk for the two of us. I have my side and my drawers, and he has his side and his drawers.  (Whoops…that all just sounds risque, doesn't it?) It's made of walnut, white oak, red oak and sassafras.    We don't really share it well as he encroaches on my side of the desk.  Still, there is the thought!
I used a full can of black spray paint on this redo.  Don't those chairs look better black?  I have no problem mixing woods but this room has so much wood…floors, desk, file cabinets, bookshelves…even the blinds are wooden!    By spraying the chairs black, it gave them an opportunity to show off.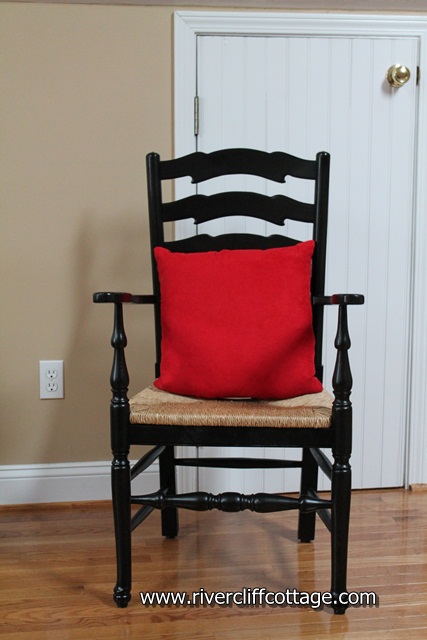 I took a look at the picture frames around the room and gave them a bit of spray, too.   I didn't want them all to be one color, but if they were brassy, they got a new life in red, black or silver.   Here's a couple that were brassy gold…now they are more cohesive with this busy room!
This one went from gold to bright red…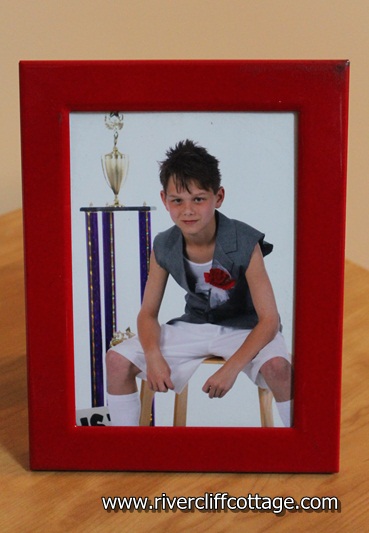 And this one went from gold to black…
I even spray painted the cardboard boxes where loose pictures or CDs are kept!  This box had been a hideous mauve and green…I had it hidden in the bottom unit of the bookshelf. If you look down in the "before" picture of my side of the room, you'll see it. Ugly! Now, it's back living the good life on the upper shelves.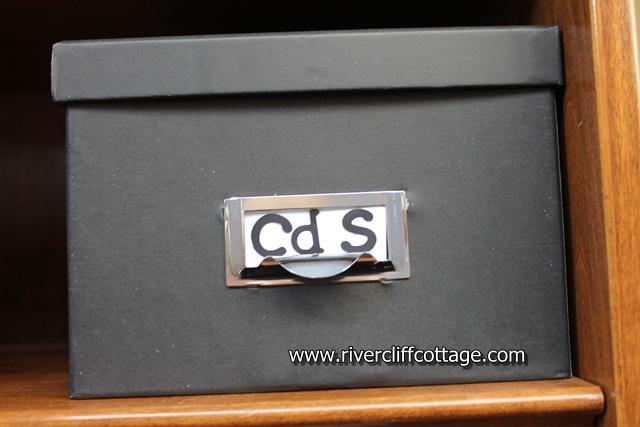 The world is a better place with a full can of Krylon or Rustoleum (or chalkboard spray paint).
Here's my side of the room before…I took this picture right when I started cleaning out the bookcase so I have the trashbag in the floor! Basically, this looks like a wreck.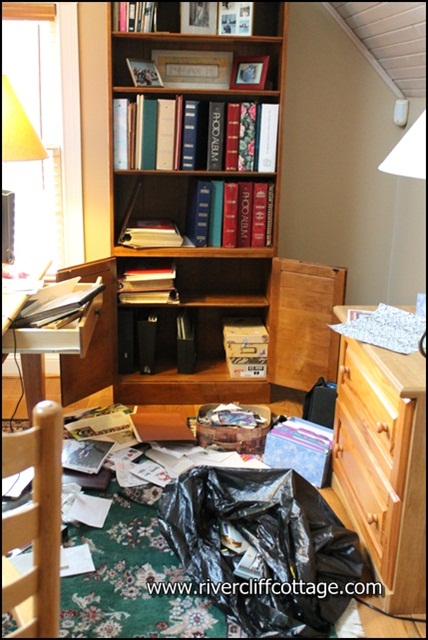 And here's the after…ahhh…I feel better just looking at this! This is a place I can work!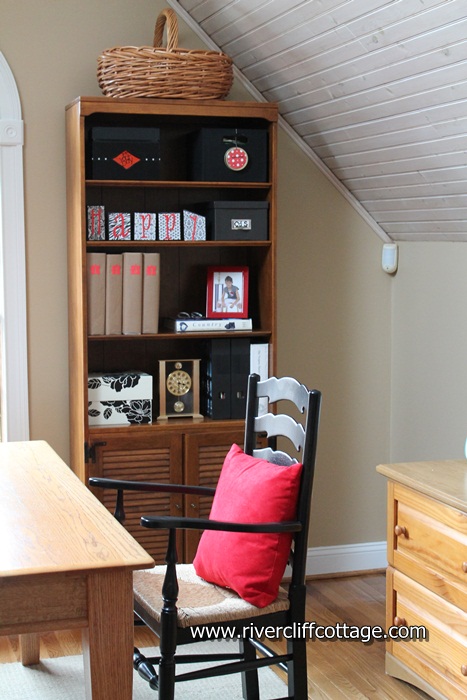 Here's the whole office area again…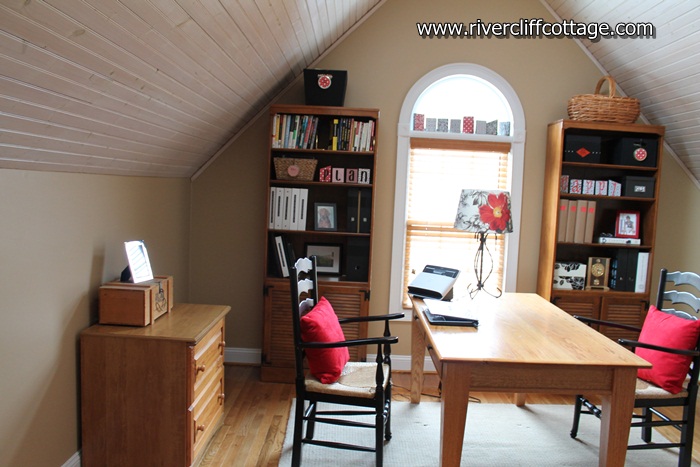 There are blocks in the top of the window…they'll say "Organize" when I get the letters on them. That's all part of my plan!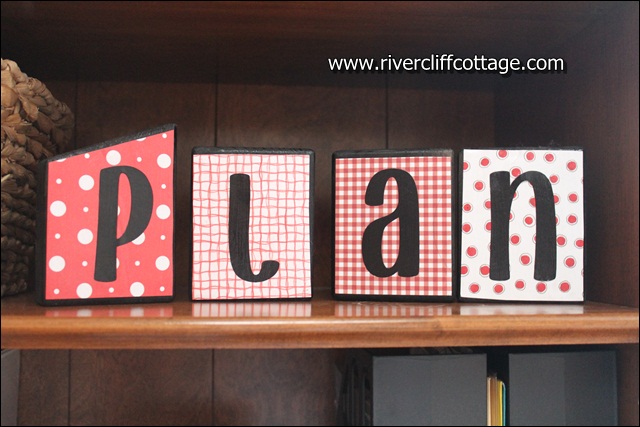 But now…it's time for a….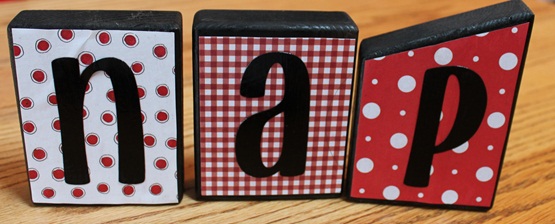 Thank you for reading RiverCliff Cottage. Do you like the office redo? I bought the pillows, the lampshades, one decorative box and spraypaint to give this room new life. Beyond that…it was just elbow grease. I'm just wondering why I let it go so long?
(199)