I am having one of THOSE days…everything just goes askew.  I realize that on my worst day, my life is better than most.  However….
It started last night when I realized it was 1:30 am and I was still up. I had to get up at 6:30 am and feed the animals. Mike had to take my Prius in for service. I had to meet him at the dealership. He had a dental appointment. We didn't get back home until 3:30 pm and we were both tired…maybe grumpy.   My mouth was hurting.  I hope it feels better tomorrow, but this afternoon, it felt  like I had 8 kernals of popcorn stuck in between my teeth and in my gums. I was fantasizing about a swish of warm salt water on the way home from town.  When I finally got home and did the swish thing…ahh…it was wonderful. 
So we're home and Mike goes to the shop. I go down, too, to…well do some spray painting…isn't that what I do a lot of the time?   I'll show you what I painted later in the week.  Anyway, I saw this girl…she has to go to the vet tomorrow.  She's so cute…she looks like she is quinting at me.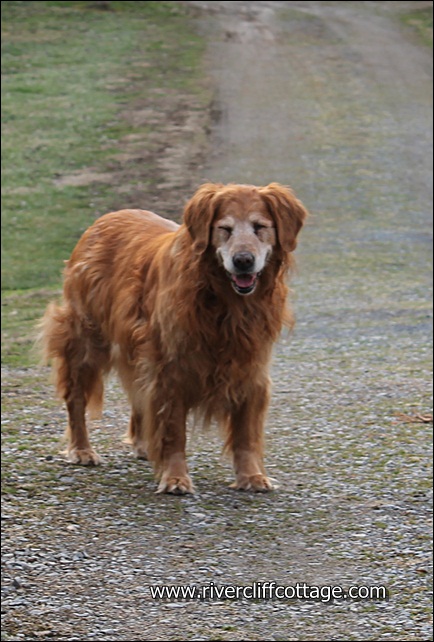 She has bumps and lumps all over her. She's had a wart on her eye for a good while. I'm afraid it's going to start causing her discomfort, so she's going in for a consultation with Dr. Steve tomorrow.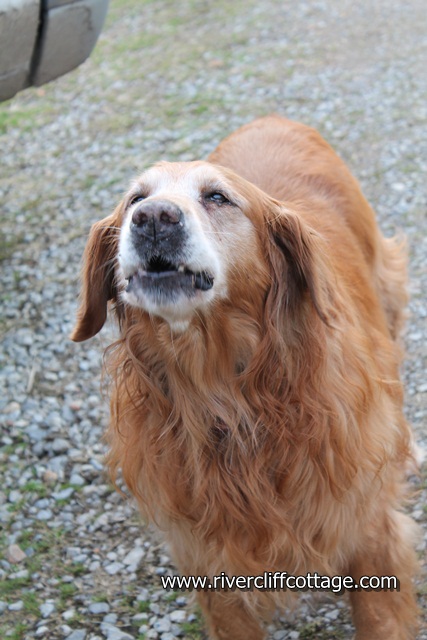 I'm worried that any day she will die. I can't help it. She is over 14.  She sure can bark good though. 
I also went to see the bees today.  There was one single bee outside of the four hives. I keep wondering…are they alive and just in the hives doing what they are supposed to do which is clustering around the queen? One was outside the hives, so I tried to peek into the top of each hive but I didn't see any activity. I keep wanting to mess with them, but there is not one thing I can do if they are in trouble. We have extra food for them in the event that they run out of honey. We have done everything that we're supposed to do. It's just wait and hope and pray.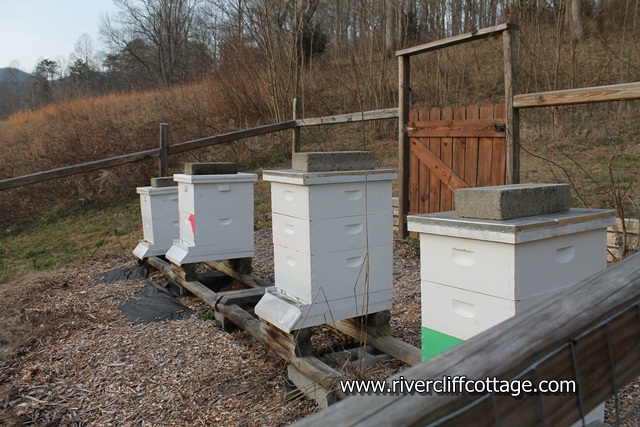 I asked Sam the cat who went to see the bees with me…Sam..are the bees alive?"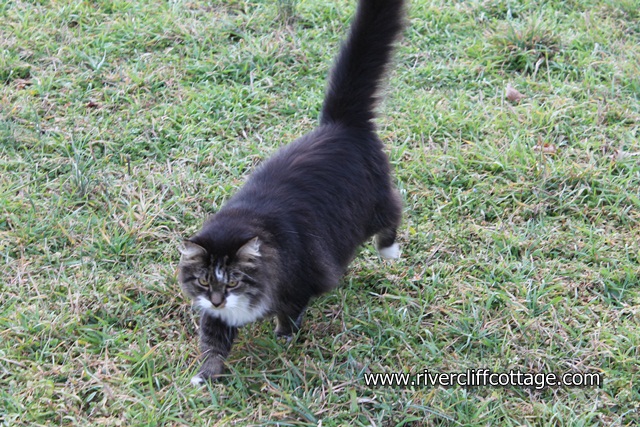 Sam said…"Who cares?  Why ask me? I'm a cat."   Look at those cool green eyes.   Self-centered cat!
One of the things that I did while in town was go by Short Sheets and buy my slipcover fabric for the couch in our home office. Guess what? I got home and I'd taken the wrong bolt of fabric. Yikes!
So my day has been spent "waiting" on cars and dentists; my dog has warts on her eye; my bees may be dead; and my couch fabric is wrong. Yikes…I will not buy a lottery ticket today! For sure!
I did do one thing that was fun. I purchased a small basket at TJ Maxx for $4.00.   It's cute.  I'm not sure what that little round thing on it is.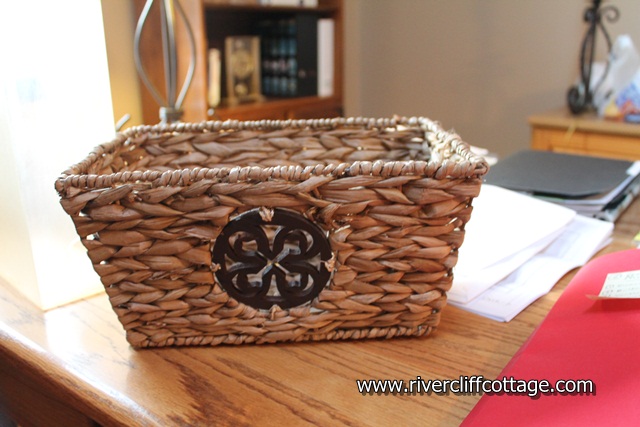 So…I now have a basket…and I'm thinking about one of Mike's bookshelves that is not very organized. It has Mike's junk on it.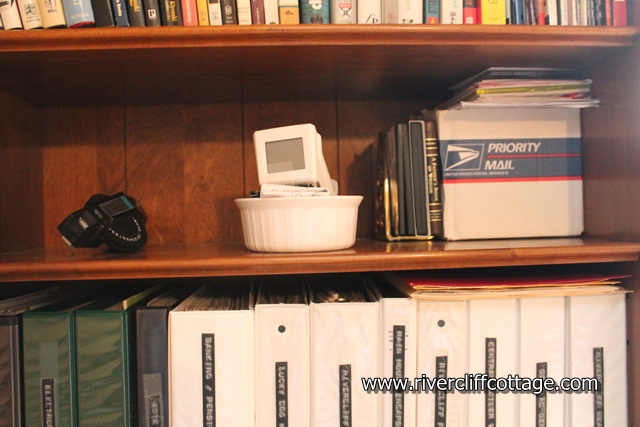 Add one of the many canning jar rings and a little bit of scrapbook paper…and now…that same little shelf is all organized. No more white bowl.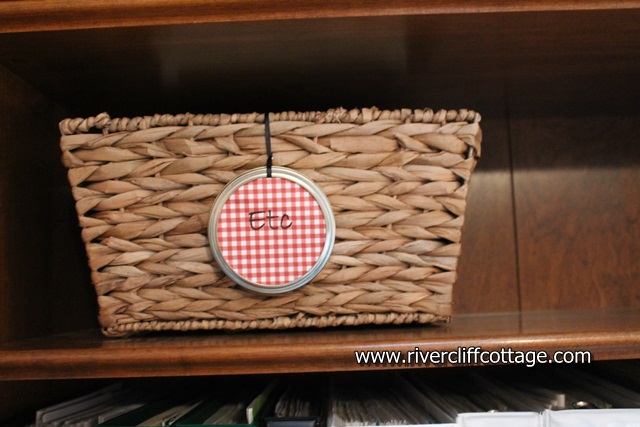 A place for everything and everything in its place.
I still have a long way to go in this room.
(148)