Last week's rainy…then snowy…weather made me want soup in the crock pot. Is it more classy to say "slow cooker?" Anyway, I found a recipe which used the following ingredients.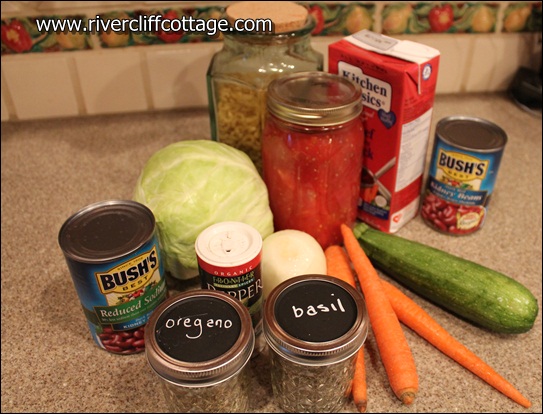 And here's how you assemble the ingredients…I got this from my Rival Crock Pot Cookbook that came when I bought the crockpot ages ago.
1 onion, chopped
2 carrots, sliced
1 zucchini, diced
1 cup cabbage, shredded
2 cloves garlic, minced
2 15 oz. cans kidney beans, drained
2 14 1/2 oz. cans beef broth
1 28 oz. can crushed tomatoes (I used home canned)
1 tsp. dried basil
1/2 tsp. dried oregano
1/2 tsp. salt
1/4 tsp black pepper
2 cups cooked elbow macaroni
1/4 cup Parmeasean cheese, grated (Of course it's grates as I use the big green can!! So NOT classy!)
Combine all of the ingredients in the crockpot except the macaroni and Parmesan cheese. Cover. Cook on low for 7 to 9 hours or on high for 4 to 5 hours. Stir in the macaroni and Parmesan cheese.
It's good! We had homemade bread (someone else's homemade..not mine) and this soup last Thursday when it was snowing outside.
Very cozy.
(891)