Before another minute passes…
Before I look at the Pottery Barn Christmas catalog for the 17th time…
I want to enjoy this pretty piece of autumn that Katie Harris painted and I purchased at her Mendota gift store. (Note…Mendota still doesn't have a grocery store…just Katie's little store that she opens when she wants to….just another eccentricity of our rural life!).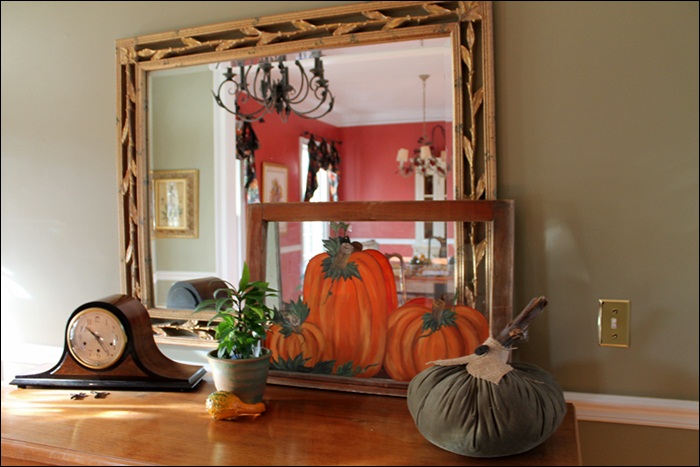 I'm liking this a lot. And look…remember those gourds that I grew and gathered and gathered? Talked about them a bit here.
There are a few still here along with my pumpkin I made for 25 cents. I'm going to have to get the beans out of that pumpkin if I don't go to grocery store soon!
Before fall gets away completely and we're totally wrapped up in the Christmas holiday, I also want to give someone an opportunity to have this cute little Thanksgiving apron and dish towel. I wish I was rich…I'd give something away every day. It's so fun. Each one of you could be my Secret Pal! Alas, I am not rich in that way.
Here's the apron…I hung it on the fence post. See the turned ground behind it..the naked trees? Winter's near!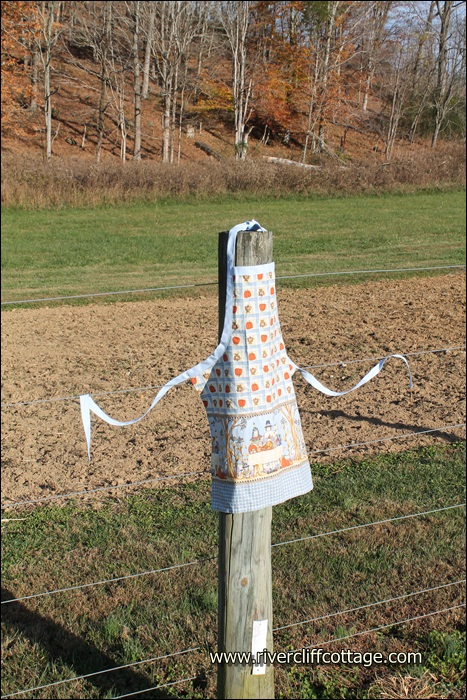 Here's the dishtowel. I bought it at the Family Bakery in Gate City, Virginia, with this blog in mind. I'm so grateful for all that I've been given. It's fun to share.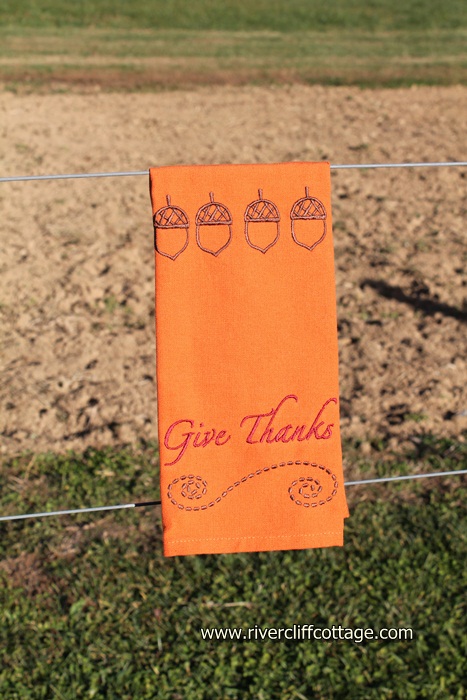 To win this, it's very simple. Just leave a comment on the blog saying anything you wish–the comment section is at the bottom of this page where it says "leave a comment." The second way to enter is to comment on the Facebook entry where this post was introduced. You can enter twice..once on the blog and once on Facebook. The drawing will be random on Friday morning. The dishtowel and apron will be in the mail to the winner that afternoon. Should arrive in plenty of time for Thanksgiving!
If you don't need or want a Thanksgiving apron or dishtowel, please share this blogpost with someone who might so they can be introduced to RiverCliff Cottage. More blog readers would be sweet!
Thank you for reading. Should I apologize for the post a few days ago where my face was green?
Nahh…
(668)