Wow…September is over!! Did yours go fast? Mine was a September of change. I said a warm goodbye to my first "real" job at AGC GLass Company on August 31. I'd been off most of the summer on a leave of absence so I'd got a taste of not working and I was prepared for the change. Once I knew I was not going back to AGC, I called my pal Sue Cressel and asked if I could work part-time in her business, About Face Aesthetics, Skin Care and Weight Management. She graciously said yes, and I've been there about three weeks. I'd helped her a bit in the very earliest stages of her business, and it was something I always wanted to do. And now I'm doing it and really liking it..   Working three days per week allows me to have a little jingle in my pocket,  access to some skincare products that might have been cost prohibitive, and time to spend on other activities that are important to me–like yakking it up here on this blog with you!!
I don't have a picture for this post, and some of you have noticed that I'm in almost no pictures.   Mike shows up rarely and I show up even less.   Anyway, here's a picture of me and my beloved Luckie Dog.   Look at how she smiles!   And there are the ever-present gourds from my garden..they are in every picture.  Gourds and vacuum cleaners are my decor accessories.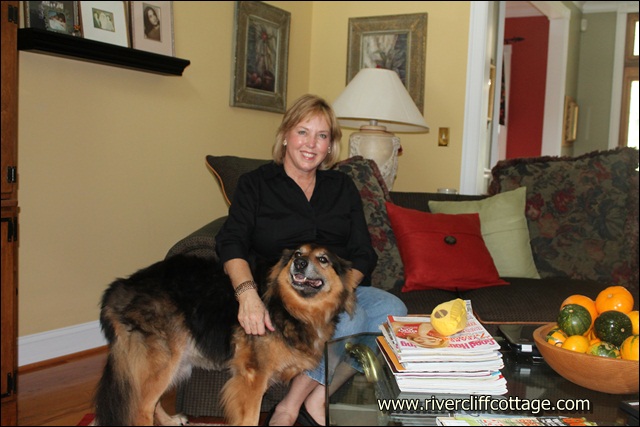 I've enjoyed blogging, and this week I had my 100th post!   I appreciate your reading  RiverCliff Cottage  It has keep me "on track" on days that I might have been less productive.    Even if I don't clean the house or check everything off my mental list, I  wonder what I can share that might make you read this blog and return to read it again.   And then I get moving!   Sometimes I succeed and sometimes I do not, but I always try!!  In two weeks I'll be attending the Southern Bloggers Conference in Raleigh, North Carolina to learn how I can improve the content of this blog.  Keep your fingers crossed!
I love our rural life in Mendota and while I try not to gush about it, I really like sharing it with you.   It is special.   Other projects that I enjoy writing about almost always include the "red thread" of using what is on hand…less about spending money and more about being creative.  It has been rewarding. 
During the month of September, I turned to my dull and boring laundry room, gagged and then changed the look and feel of that space for under $40.   Here's the results of that project.    Since I live in the country, I like a natural, organic look rather than bling, and it was hard to find a fall wreath that I liked, so I made one!  You can read about that here.     One of the most fun fall projects was making fabric pumpkins.  That post did not get the views that I thought it would, even though I only have about 40 cents in each one….check here if you want to take a second peek!   Please look!   My post last evening was a chalkboard paint project with a Salvation Army find…I enjoyed this project first thing this morning as I brushed my teeth.   Smile!
I love it when you comment and let me know who you are and what you think.    At some time in the future, I'm going to revisit the blog design and make it easier to find the comment section.  I think it takes a little "hunting" right now.   For those of you who hunt and find it, THANK YOU!!   And as for my typing errors, please forgive me. 
I hope October is a good month for you.     Thank you again for visiting RiverCliff Cottage.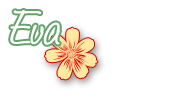 (708)