Happy Monday! We were so busy partying it up at "get togethers" in Mendota that I didn't get to work on my house projects. Most are UFO's. Unfinished Objects. Check out this dining room table which has been where I've been stashing things.   I did clean it after taking this picture!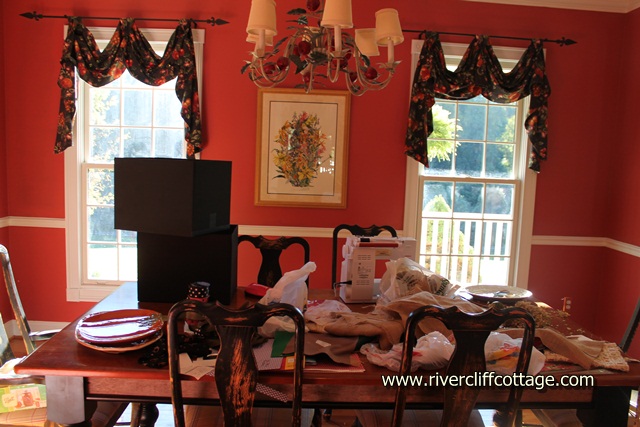 My day started with a bit of stress as I found a big lump on Sam the Cat. He has a large, hard lump on the left of his jawbone. I've called Dr. Steve Dotson and set up an appointment.   He's such a bad cat but I don't want anything to be wrong with him.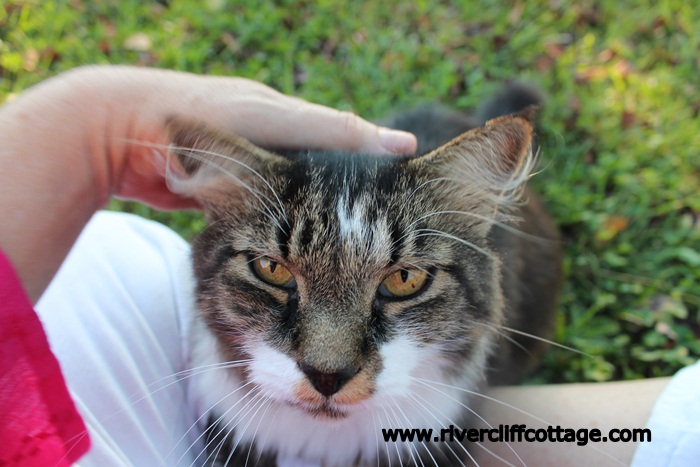 This picture was taken about 10 days ago.  Don't you think his mean little face looks a little swollen on the left?   I'm hoping it's just a tooth, and it can be a quick fix.   I don't like my animals to be in pain, so it's been on my mind today.  However, it still was a good day.  
I wanted to make some cloth pumpkins. I'd seen these online and they looked simple enough to make.   It's gotta be SUPER SIMPLE EASY for me to make something with cloth and thread!   I needed something round, and the largest round thing that came to mind was a trashcan lid.   I decided that the driveway was as good of place as any to work.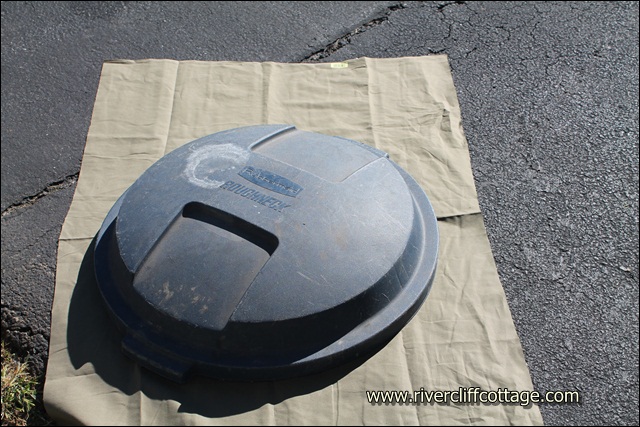 Here ya go!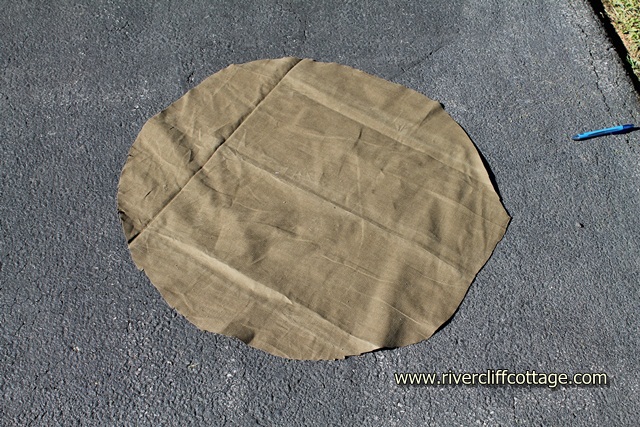 Time for a break. Had to leave my little work space and hang out with Luckie Dog for a minute. The dogs are enjoying these cool days. I love this little dog.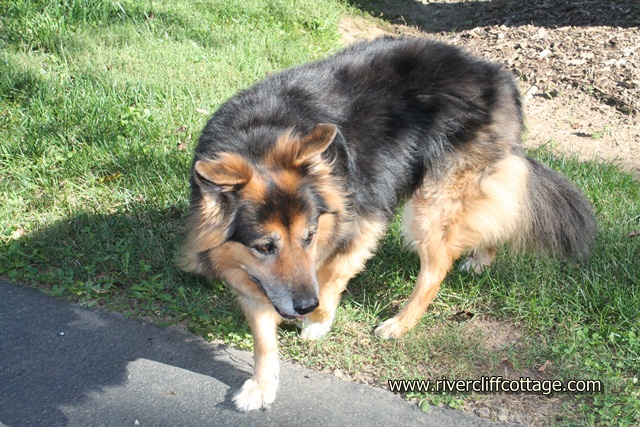 I just left my pile of fabric on the pavement.  
While Luckie and I were walking about, I started looking for a stick to act as my pumpkin stem. The woodpile in the meadow behind the house was a good place to look. Bingo!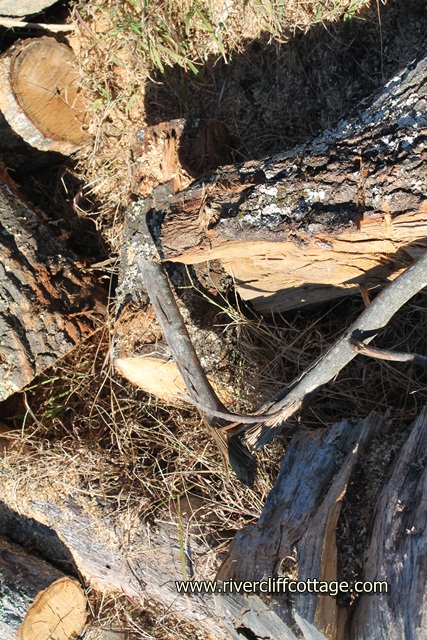 I moved my little workshop to the kitchen countertop. I did a quick handstitch around the edge of my circle and then gathered it making a little pouch.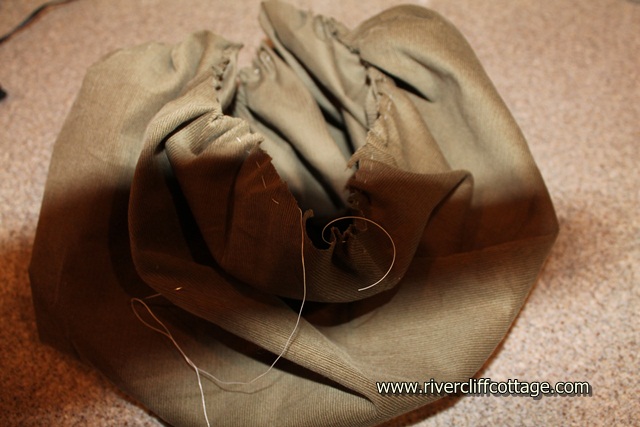 It's now time for my stick and some beans to give a little weight to my pumpkin.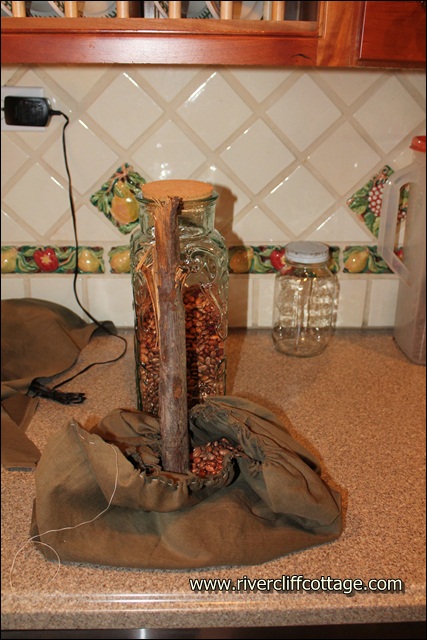 This pumpkin needs some fullness.   I had purchased stuffing for this, but since it was going so well, I wanted the stuffing to last for several pumpkins. So…I added Walmart bags!!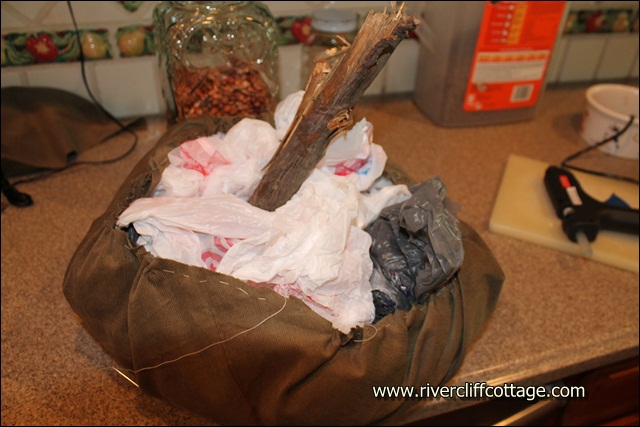 In addition to the bags, I added a bit of the fluffy stuff.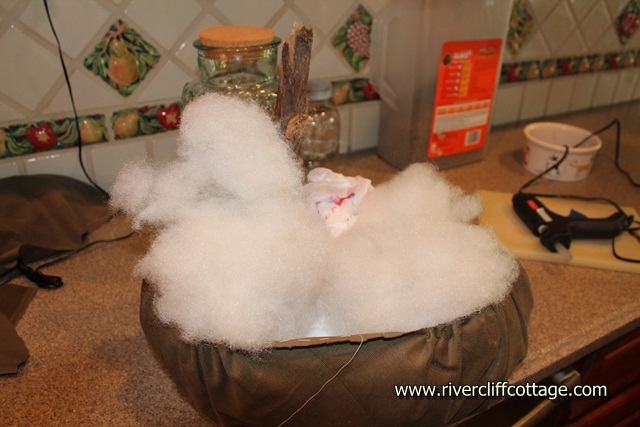 Here's the finished product. The fabric looks brown in this picture, but it's actually a nice olive green. I added a little burlap to transition the top of my pumpkin and the stem. I also cut a couple of burlap leaves.  I used my glue gun to make sure they stayed put, but I did it in such a manner that the glue did not touch the fabric.   For some reason, this just screamed "put a button on me!" So I did!  Then…I thought…it looks like a pilgrim!  I have created a pilgrim pumpkin!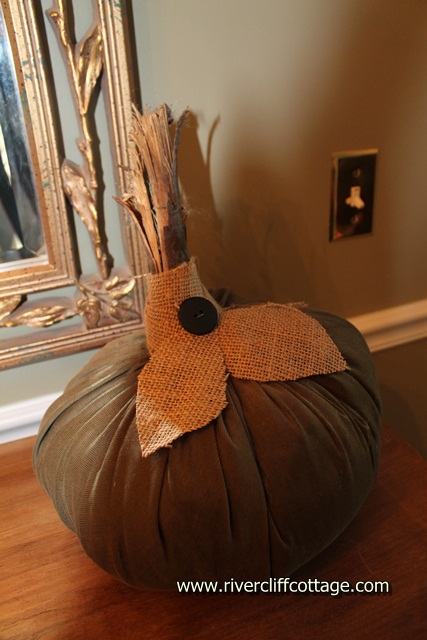 Since the first one was so simple to make, I repeated the whole thing and made a second one.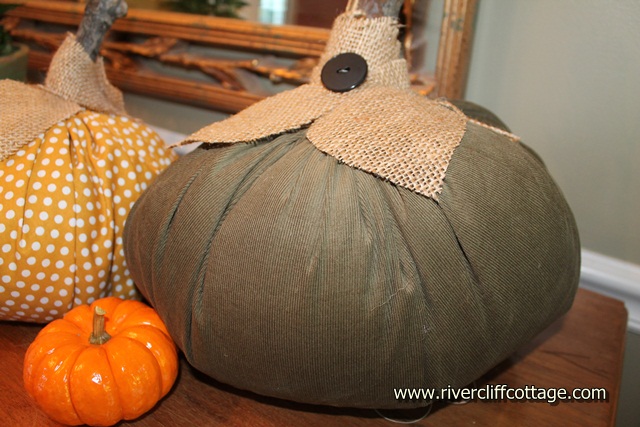 Working on a third smaller black one tonight.   When working with accessories such as  this, three always works better than two.   
I like the use of fabrics that I have on hand and the different textures.  The green one (that looks brown in these pictures) is a soft cordurory.  The gold and white polka dot is just cotton.  The black fabric that I'll be using for pumpkin #3 is silky black with gold flowers.   I'll take some pictures of all three when they are all finished, and I'll do it in early morning light so the colors will be true. 
If you try this project, I'd recommend that you use what is on hand and to be sure and use either fishing line or upholstery thread for your stitching.  When you gather and tie the knot, you'll need to pull hard.  Just like marriage!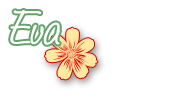 (743)