As I've mentioned before, I have a close friend who describes my decorating style as cheerful. She's right. I like color and a certain brightness to the rooms I live in. They make me happy. Did I show you my very unhappy laundry room? It's very, very sad.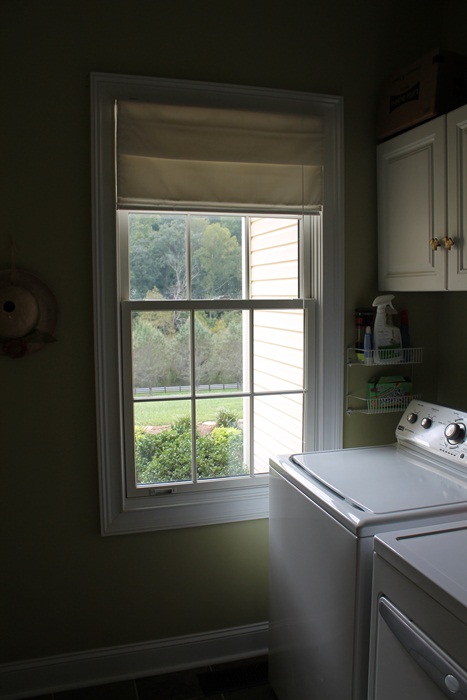 I've finished updating the laundry room today.  Here's one of my "after" pictures and then details of what I did during this process of changing the look and feel of this little room that I enter daily.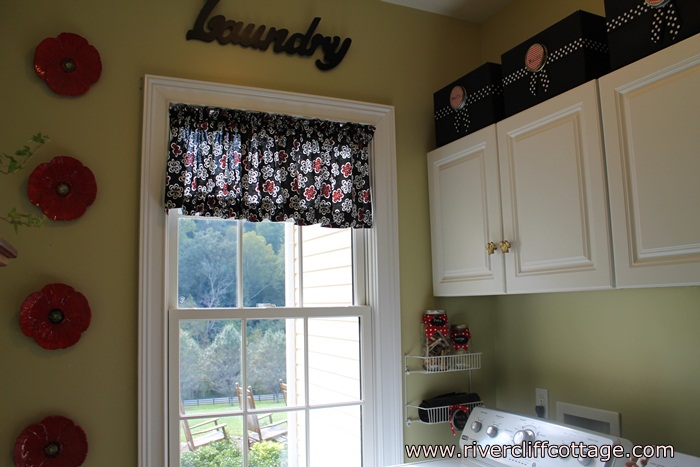 I knew that red and black would change the way the celery colored paint would look, and I went looking for an inexpensive piece of fabric for a window treatment. I found a black, white and red fabric at Hobby Lobby for $9 per yard. I had a 40% off coupon so that brought it down to $5.60 per yard. I bought 1 and 1/2 yards.
Here's the fabric..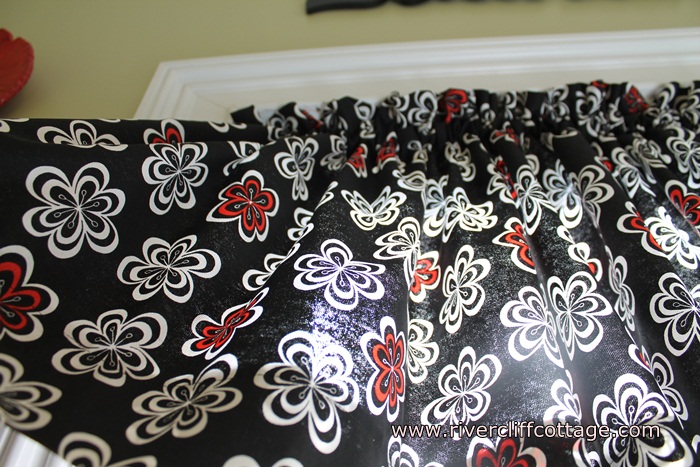 We had created a  storage problem because we stored tons of lightbulbs in the cabinets above the washer and dryer. It was Little Debbie to the rescue again as Mike picked up empty Little Debbie boxes at Sam's Club and I painted them, hot glued ribbon on them and used wide-mouth canning lids and scrapbook paper for labels. With the ribbon, I have about $2 in each box.  What a deal! I have attractive storage for the bulbs and easy-to-access storage for laundry and cleaning supplies.  I couldn't be happier.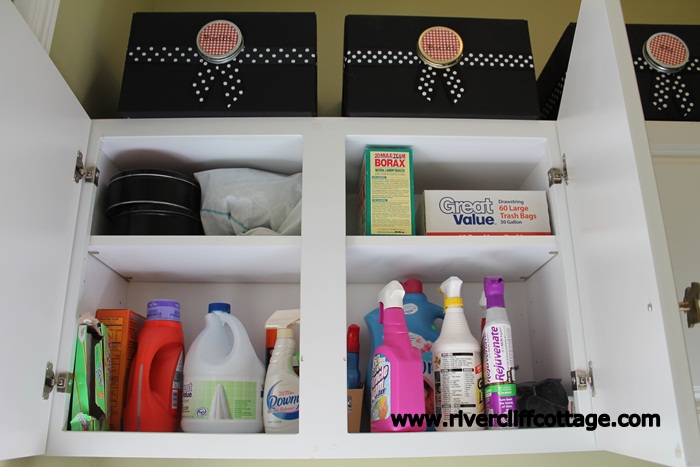 I used four boxes.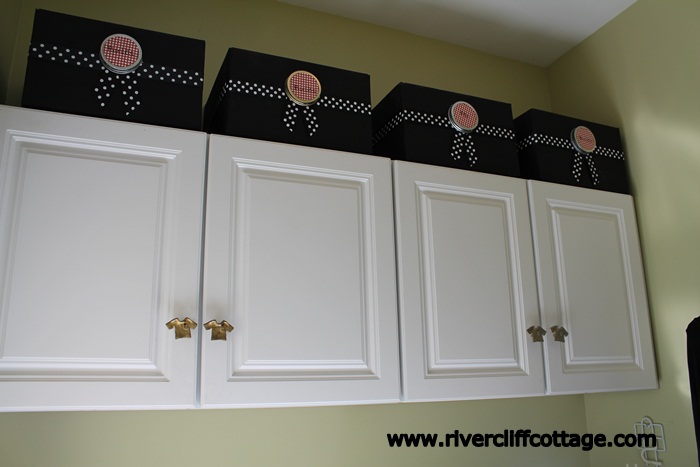 I decided to keep trash bags out in the open where they are easy to find. When we have company, which is fairly often, sometimes they'll ask "where do you keep the trash bags?" Now, I can just point them to the laundry room!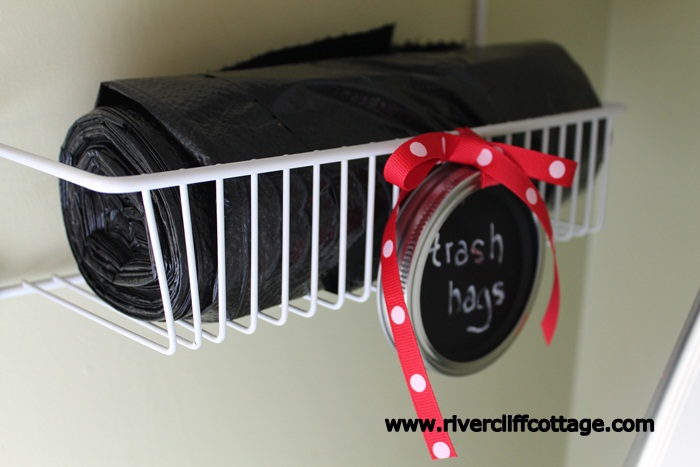 Living 17 miles from a grocery store,  I've learned that white vinegar can handle just about any cleaning job and it's a good thing to have for laundry, too.   I'm keeping it on hand in one of my canning jars.  Same with the clothespins.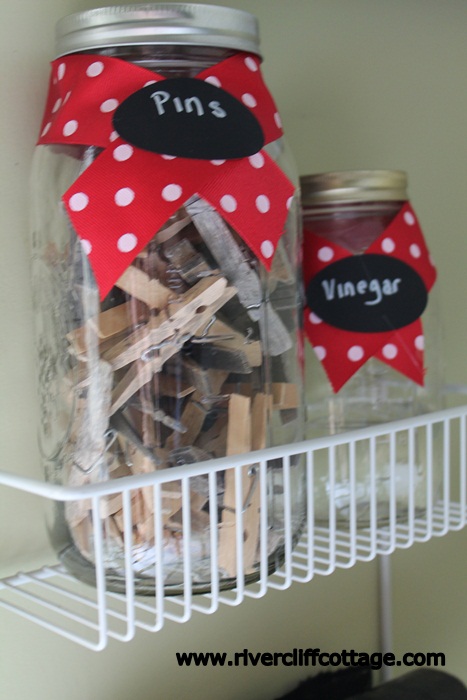 My husband made this small distressed red shelf.  Love it.  I also keep clothespins in it. I like a plant in every room–that inclues the laundry room.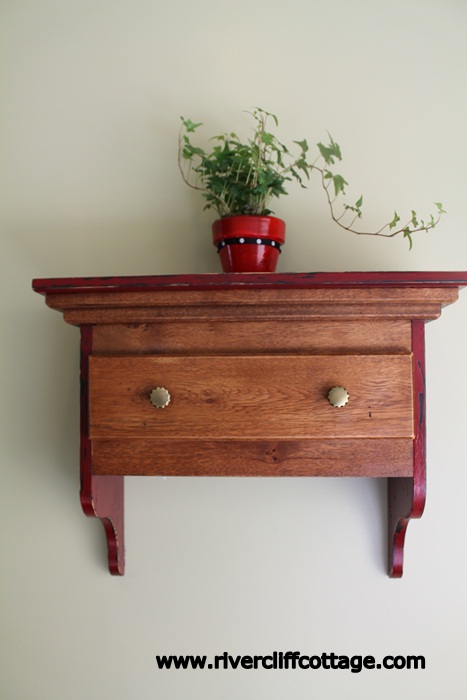 I had these red plates which I'd bought many years ago.  I've never used them.   When I was thinking about the laundry room and the need to have some brightness in there, they came to mind.
;;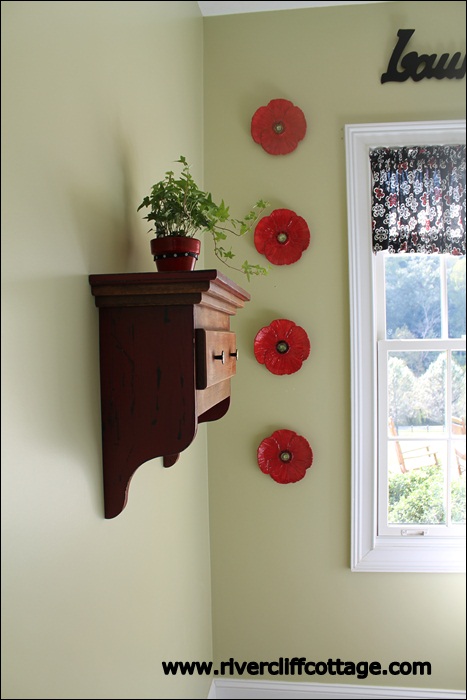 I had to wait for several days to put the plates up. I use an adhesive backed plate hanger for hanging plates, and I haven't found any place in Bristol that carries them. I ordered these from Amazon on Thursday and they arrived today (Wednesday). I was so excited when the mail arrived with them…you'd think someone mailed me gold!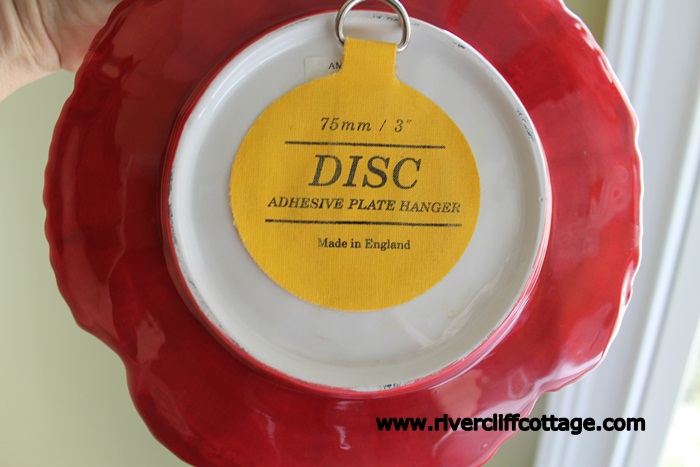 The ribbon, fabric, spray paint and spraypaint were all that I purchased. I like using what I have on hand, as it inspires me to think "outside the box" (or in this case…in the box). My sweet mother, Vivan Barker, always said that "necessity is the mother of invention." Mother was right!
Thank you for reading RiverCliff Cottage. If you care to comment, I'd love to read your thoughts!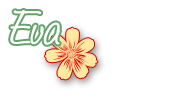 (3491)