We got up this morning and the first thing out of Mike's mouth was "Wanna go to Lowe's?"     Who was he kidding?   Of course, I wanted to go to Lowe's.  I love Lowe's.  Lowe's makes me frisky!     A few days ago we  had some very nice young men help us with trimming our shrubbery around the house.  It was a jungle–out of control.  They did a great job, but in the process, they cut through three of those long, thick orange extension cords!  Instead of buying new ones, Mike wanted to go to Lowe's and  buy only the new ends so that our existing cords could be repaired (although not quiet as long).   We headed to the Bristol, Virginia Lowe's store, made our purchase and returned home.  Round trip 34 miles and it wasn't even 9 am.    When we got home, he discovered he'd bought three males when he needed three females.   Are you getting this?   If we proceeded with the repair using the males we purchased, we would have three extension cords with the prongy plugy things on each end.   We had to go back to town.
So on this trip we headed to Gate City, Virginia to a local hardware store called Quillens and got some females.  Round trip another 34 miles and not 12:00 pm.  I'm not sure where I'm headed with this except to say that now our extension cords are now repaired and all sexually appropriate for conducting electricity.  Shocking.
It rained very hard on Friday and it was just the boost our garden needed.  Here's a view of the garden from the guest house deck: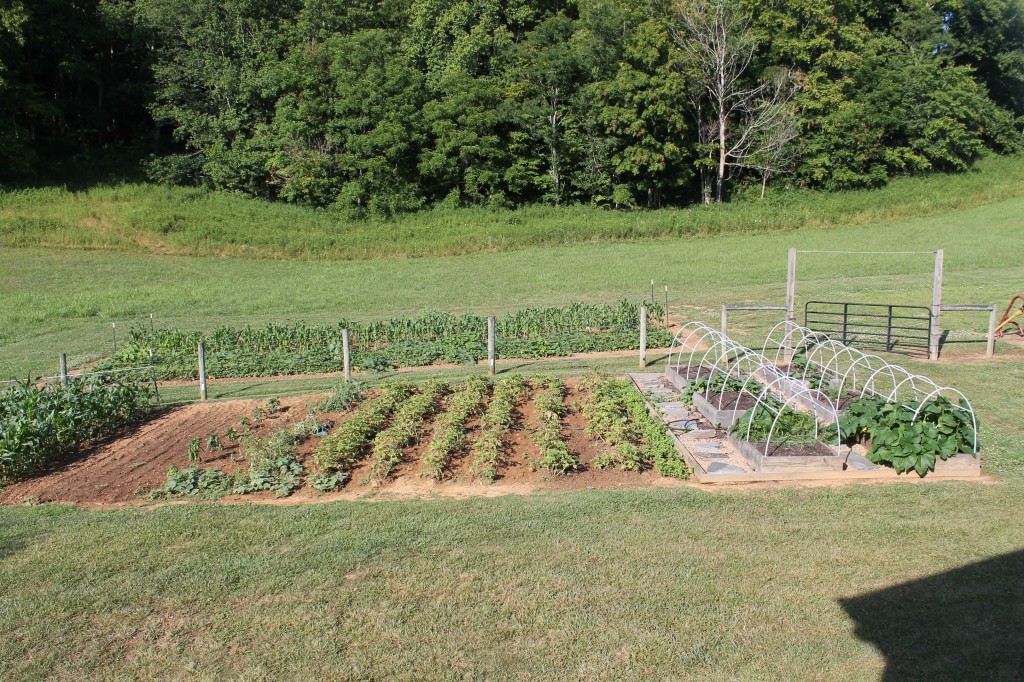 The corn is just doing great.  I have three rows of green beans that will be knocking at the door in the next 10 days.  Cucumbers doing nicely.  Sunflowers and zinnias on deck.  Zuchini and squash getting out of control.   Gourds looking happy.   Potatoes are pleasing.   Please do not notice the tomato plants that were not staked.  Embarassing.
So as I was looking at the garden, I glanced to the left and saw every gardener's nightmare.   He (I hope it's a bachelor and not some young mama) is just to the left of the fence post in the center.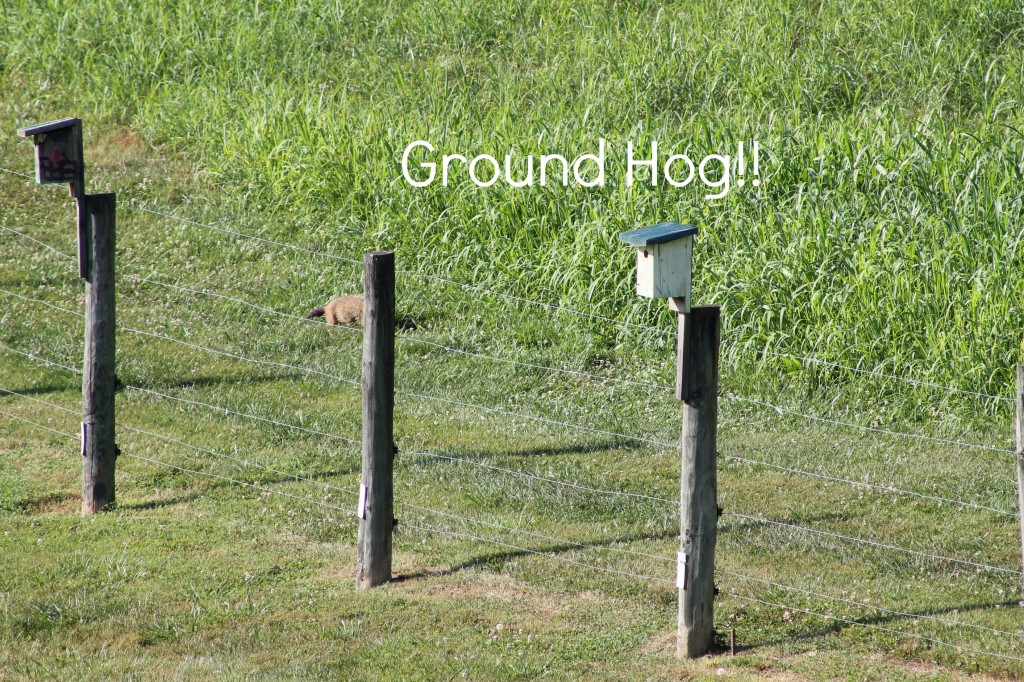 I spoke with Luckie about her responsibilities to our family.
Luckie, have you completely retired?  We are glad about the skunks you're no longer chasing, and we understand the miss on the possum that was in the rhododendrum–the hissing was scary and its teeth did look sharp.  However, is there any way you can look into this Groundhog Situation?
Where is that darn groundhog?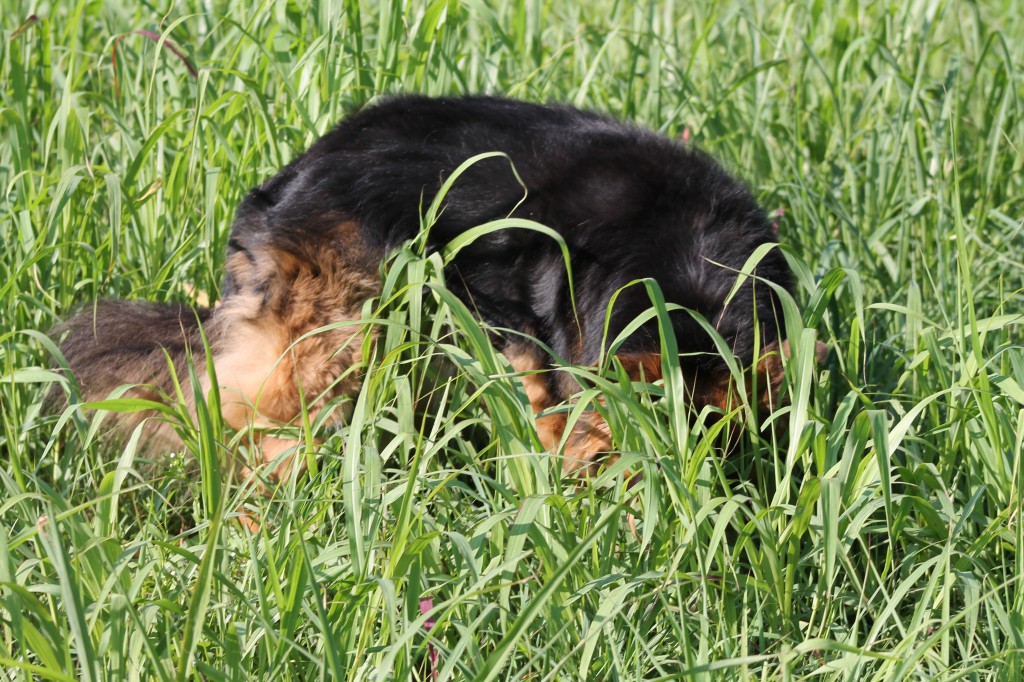 No success on this visit to the groundhog's hole, but it's on notice.  There is a sheriff in town, and her name is Luckie.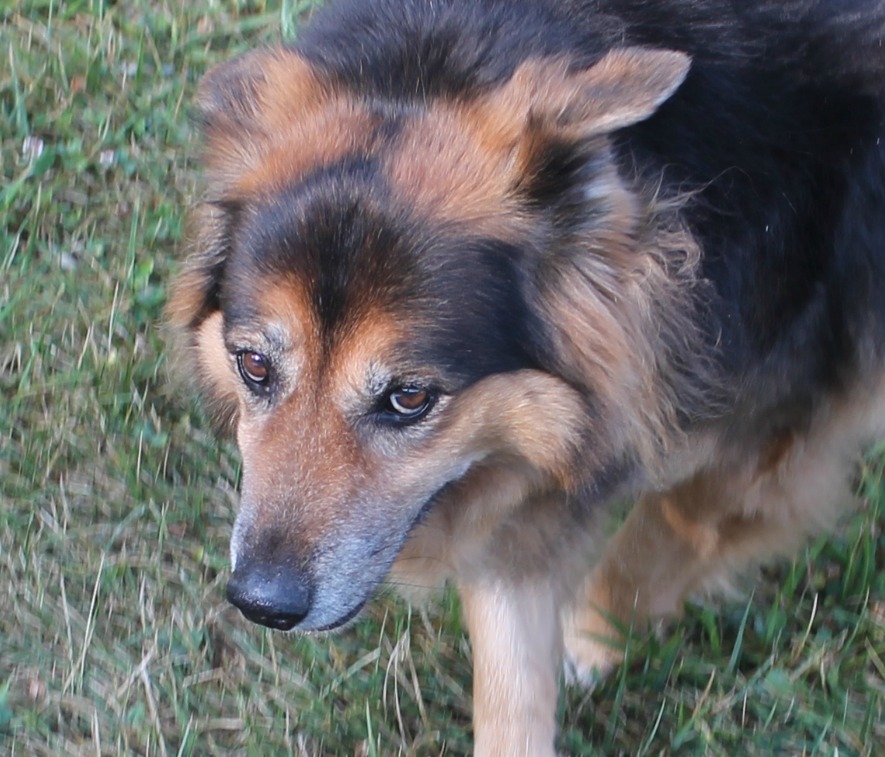 Update: I actually wrote this post on Saturday, and it's now Tuesday. While Luckie did not kill the groundhog, she certainly reminded it that she was present. We have not seen it since, so I'm hopeful that it moved deeper into the woods.
(990)