As I planned this blog, I listed all sorts of projects that I want to complete around the house. I decided to start in the foyer which is pictured below.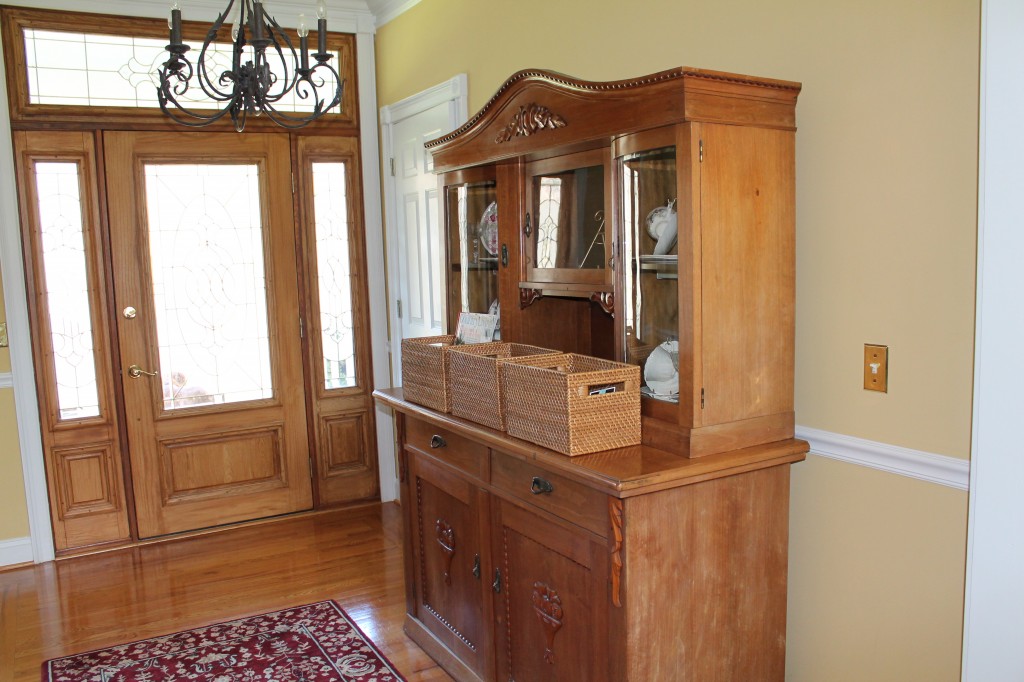 This is my foyer BEFORE picture. It's a small one-story entry and it has received very little attention. The piece of furniture that's shown in the picture came off the curb of a house in the Bell Meade area of Nashville, Tennessee about 25 years ago. A friend and I picked it up before the Goodwill truck arrived. At the time, I had nothing in the dining room and it was to be the beginning of a creatively put together, mismatched dining room set. Never quite made it.
The baskets are just there waiting to be moved somewhere else. They are part of another project that has not been completed.
Do you see a pattern here?
This is the start of the AFTER pictures of this project.  I painted and then Michael fixed all of my painting mistakes.    The paint is Herbal Wash by Valspar purchased at Lowes for about $30.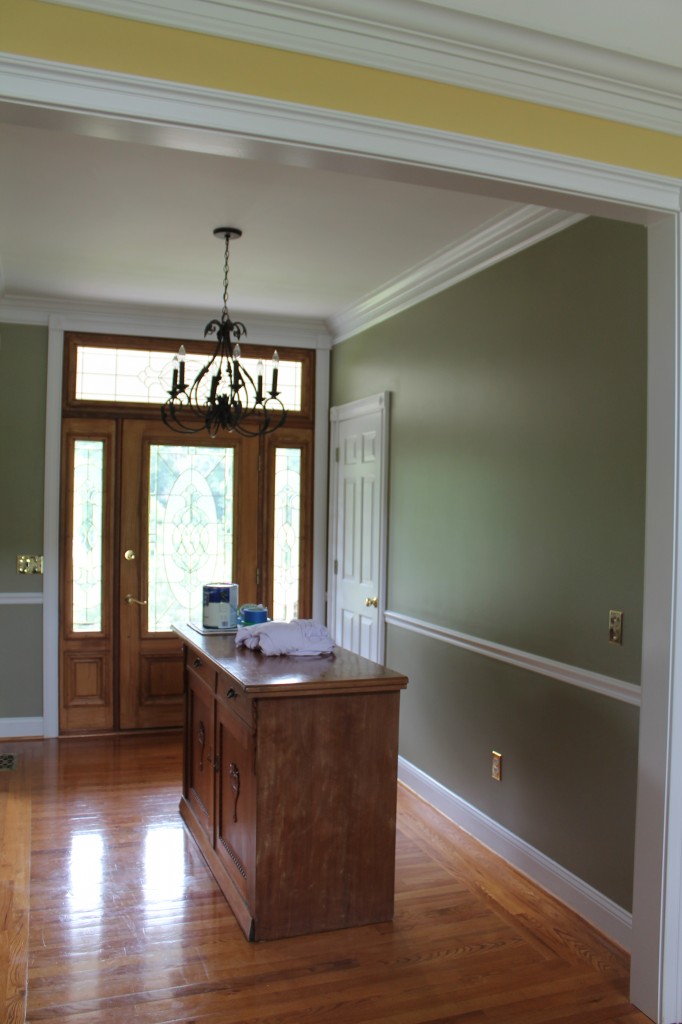 I liked the wall color but the white closet door reminded me of a giant bandaid, and I started thinking about all of the black doors I've seen in blogland.  Rhoda of Southern Hospitality had just posted about this a few weeks ago.  See Rhoda's post here.   I decided to paint the closet door black.
Here's the room all finished up today.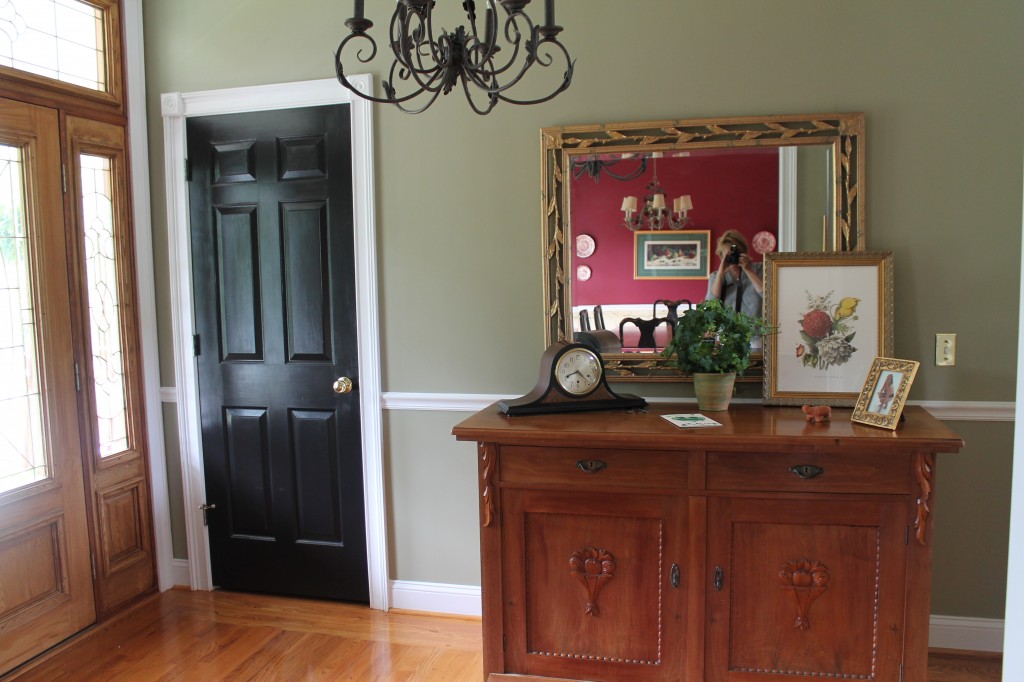 Here's another picture taken from the living room angle.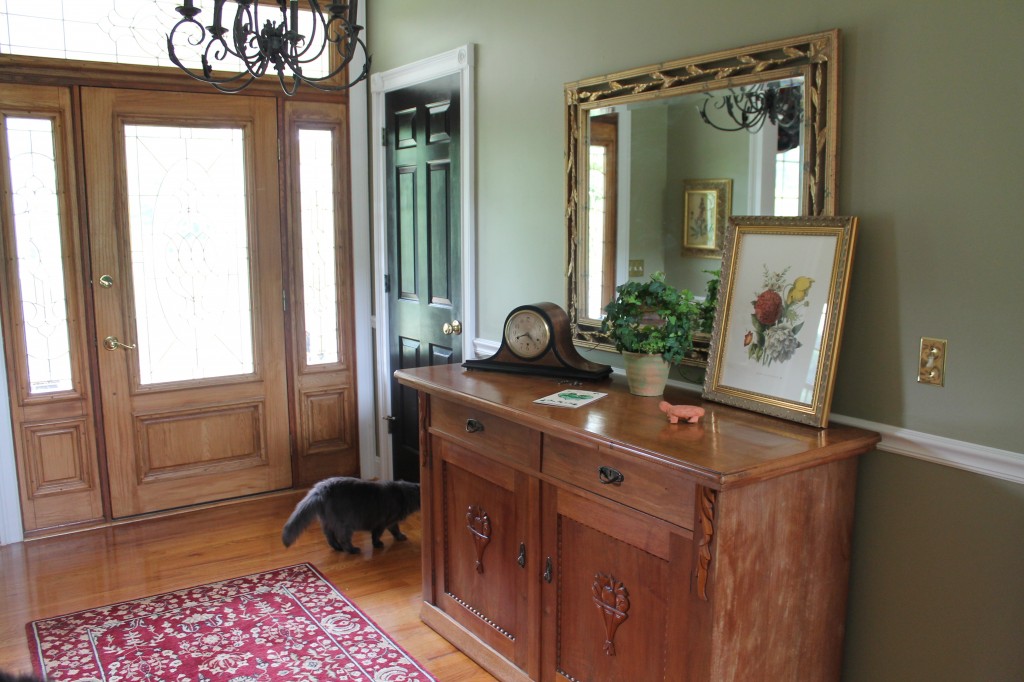 Chrissie the Cat is investigating our work. She's not allowed on this side of the house, so as soon as this picture was taken, she went sailing out the front door. Also, the room is small and I do not have the best camera lens or photography knowledge to capture it correctly.  There I am in the picture and you can see that I am one of those people who still has a red dining room.  Dragon's blood red!!!  That will be changing soon.
I am still using the old piece that came from the curb, but I've removed the top.  It shows some age, and I'm okay with that.    (Me too!)   I found the mirror in our attic.  It had been packed away when we moved ten years ago.  Totally forgotten until last week when I went on the hunt.
I'm very happy with the black door.  Actually, I'm loving the black door.  However, it did take three coats of black paint to get the door painted. I recommend that if you paint a white door black, as we did, that you remove it before starting to paint.  Also, in case anyone is wondering, I painted both sides of the door.
(1801)