For years, I've read about No Spend January.   After ending up in both November and December with less money than anticipated at the end of the month, I realized that there's a "leak" or a "hole" in my wallet!      I decided to embark on a No Spend January.   I have an ambitious savings plan for the next 24 months as I'm going to redo my kitchen plus we have a spring vacation; a possible fall vacation; and a weekend get away with my sister planned and I don't want to look at a bunch of $20 receipts for things that I have nothing to show for while sitting at home.    Starting off January in a positive way sets the tone for the year.  If careful, I can have those nice vacations, contribute to my ambitious savings plan, and still enjoy a lot of wonderful, enriching activities.     I want to be more purposeful in how I spend money and time.
Here's something funny though that I should add…I was explaining all of this to Mike's son and he said "hmm…are you and dad okay?  Do you need some money?"   I didn't realize how I must have sounded.   I assured  him we are fine, but why not take the time to be purposeful and live well vs. just wasting money?   I choose to live well–but for less.
Here's some things that have been so easy.
I put aside credit card purchases and pay cash (checks and cash) for everything and refrain from buying when I have a "want" vs. a "need."    Of course, there will be times I give in to the "wants" but not in January and hopefully not as often during the remainder of the year.   While we always pay our credit cards off at the end of the month, we have not accounted for the charges as closely as we should while the month is happening.   If we did, I would not have been shocked in November and December!   By changing how we pay for our purchases, we become more mindful.    How am I doing on Day 7?  So so.  I had a little slip up last night at Target in an effort to buy and save at the same time.    More about how that came about later.
We are still doing things…although in some areas not as much.  We did go to the movies today — we go to the matinee since we're retired and we can!  $9 for two people, and we had the entire theater to ourselves.   I could play on my phone during the previews that I don't like as I wasn't bothering anyone!
The first thing I did on January 1 was look at those charges on my credit card that are automatic.
Audible for $14.95 per month.  Do I enjoy it that much?  I do enjoy Audible, but the Washington County Public Library has audio books I can download on my smart phone for free or I can pick up a book on CD at the Mendota Branch (see below).    I currently have the Audible membership paused for 90 days. I'll decide what to do with it later.  At this time, I think I will cancel it.   Meanwhile, I don't need to be bored…
Bristol Herald Courier.   I love the newspaper, but in Mendota, we can't get it on a timely basis.   Apparently it is hard to find a carrier out here, and if the post office is used for the paper, we get it one–or even two days–late.  At $14.95 per month with my news being old,  I discontinued it.    I have carefully considered the online version but I prefer to handle and touch the newspapers and I like to reuse them in the garden.    I may revisit the online version at some point.  Unsure.
There are still several recurring charges on my personal credit card that will remain, but they are for insurance — pet insurance, health insurance, dental insurance, AFLAC, etc.    I have them on the credit card because I earn points, and I pay them off monthly.   During a year, I receive about $250 in gift cards — I typically get Home Depot, TJMaxx,  Pottery Barn and Bed Bath & Beyond gift cards.  I love them all but I think Pottery Barn is my favorite.  Pottery Barn has the nicest, generously sized duvet covers and when they come on  sale; that is when I pull out the gift cards.   Duvet covers that are washable are very handy when you have pets.   I've either completely purchased or subsidized the purchase of all of my Pottery Barn bedding–and I have a lot–and all my Pottery Barn throw pillow covers.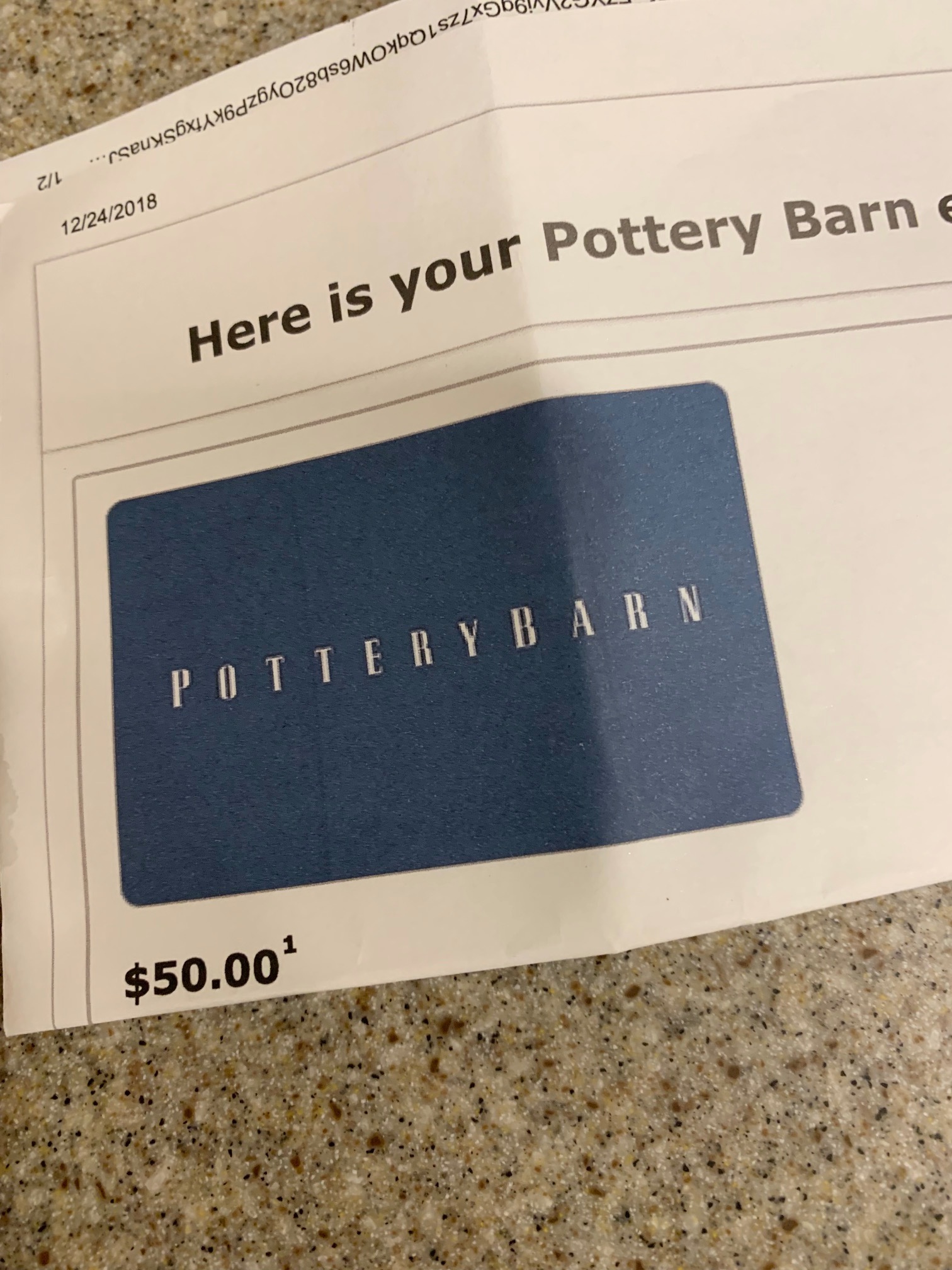 Here's one which is currently packed away.  It went on sale and I bought it for free with my gift card.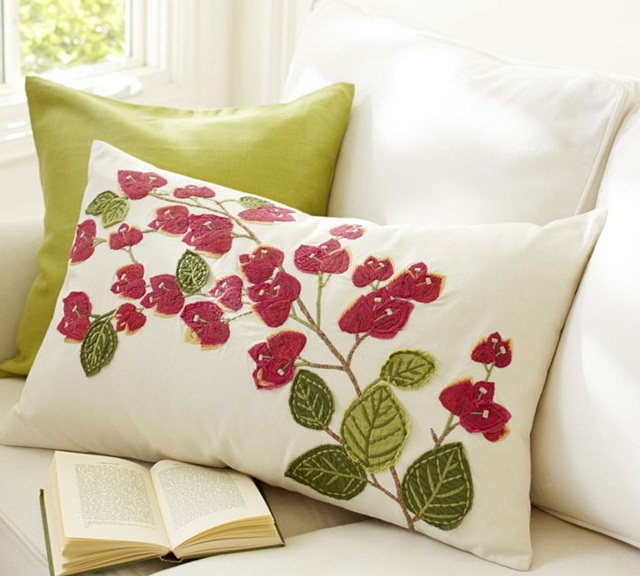 I wasn't even aware of the points for a number of years, and when I discovered them, I gave everyone gift cards for Christmas.  Now, I'm greedy with them–they are real dollar stretchers.
Eating out.   Mike sometimes says "it's cheaper to eat out then to cook at home."   Actually, he's wrong.  I will agree that it's more fun!  It's easier.  In our case, it  might even taste better.   However, eating out means we go to town (gas).  It means we leave a tip.    We can eat a little cheaper with fast foot such as Pals, McDonalds, etc, but the end result of that is weight gain (please pass the carbs) plus no savings in doing so.   I'm not a great cook but I am an adequate cook; and when I look at past receipts, I see that we are literally eating up our money yet spending a large amount on groceries.  Go figure.
But we do still eat out.   We like to eat at Chili's and we are there at least once per week.   So…when Chili's has the occasional "buy a $50 Chili's gift card and get a $20 gift card free,"  I am in.    We ate at Chili's last week for about $6 for both of us.  Most of that was tip as I had two $10 gift cards that were free.   All year long, they have the buy a $50 gift card and get a $10 gift card free, so we always are buying gift cards.   If we are going to eat there, we might as well take advantage of those $10 gift cards that are free.
Like with audio books, use the library.   Check out my magazines and books vs. buying them.  This book actually relates to what I'm doing right now…being less of a consumer…being more thoughtful in my purchases.  Smelling those roses.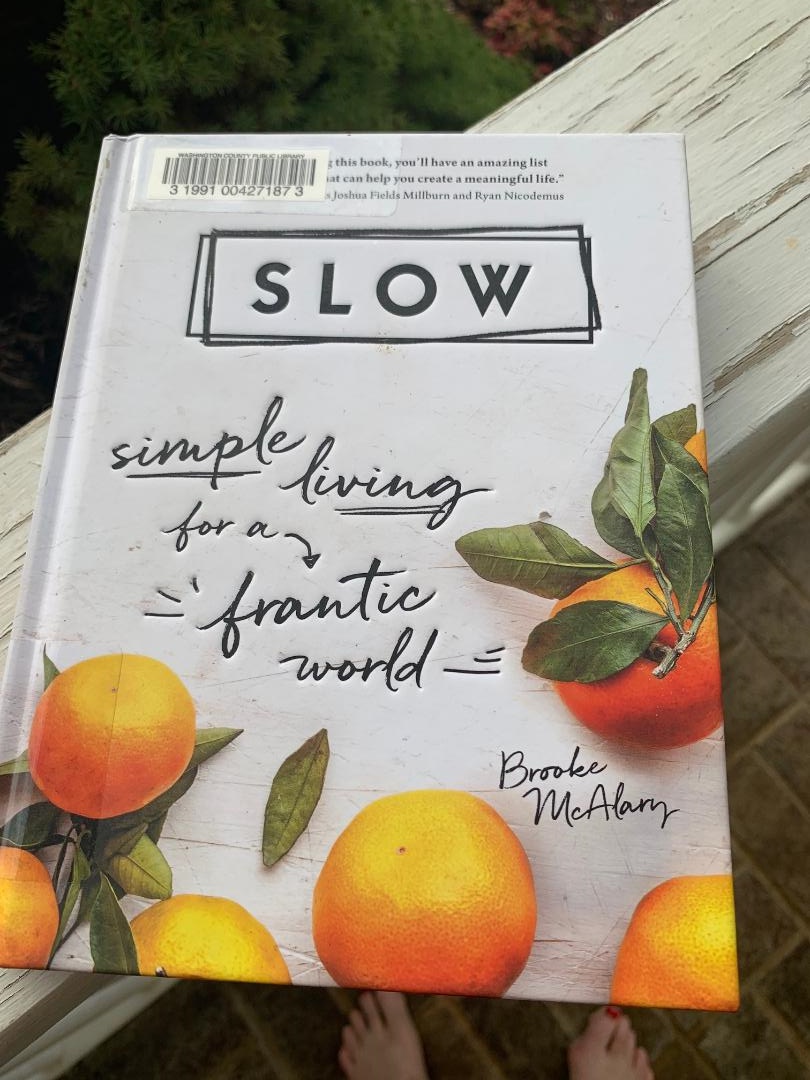 Have you ever laid aside a couple of projects and started another one just because it got your attention?   I have.  Many times.   I call those UFOs (unfinished objects).    I'm working through UFOs.
I made my first two quilt tops in 2018 and I have a lot of small pieces left.  I cut them into 9″ squares and I'm making a scrap quilt.    River loves to move them around when I'm working.    He's so precious.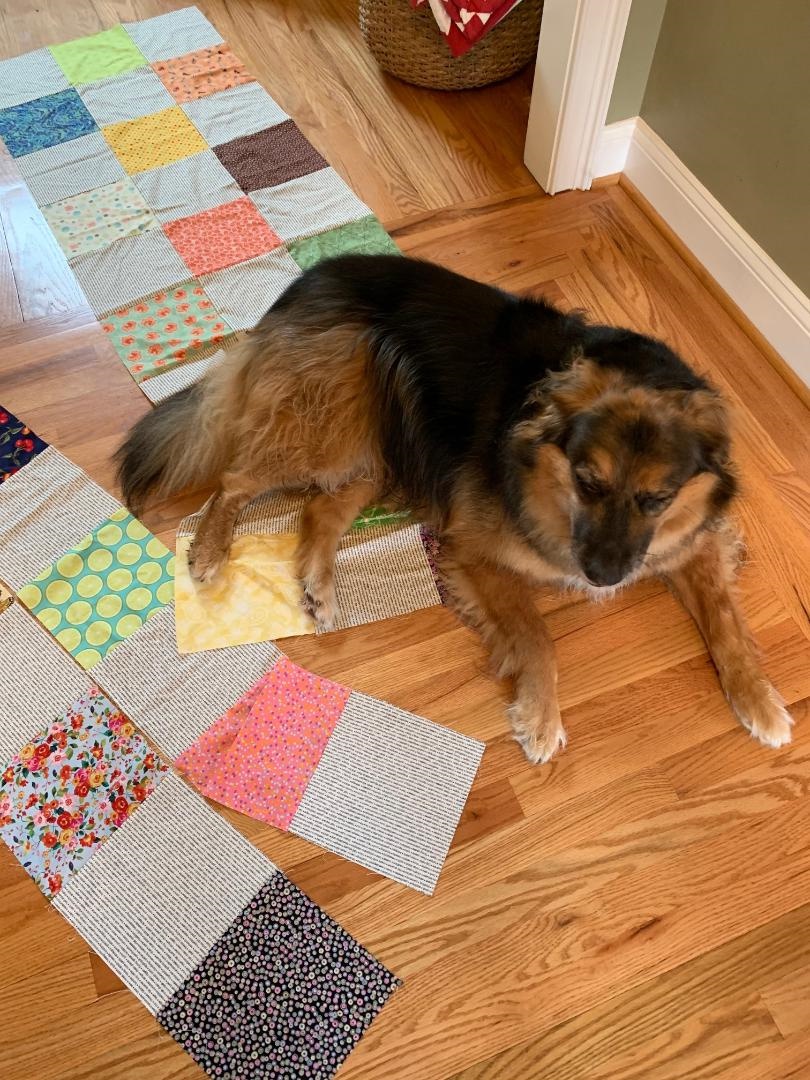 It'll get rid of those scraps and it will be something someone will enjoy.    It's my "sister" quilt as I am making it for my sister, Pat.  She looks odd each time I say that because she hates being indebted (she knows she's not but still…) and it's not her all-time favorite quilt–she eyes the hot mess quilt but it's a twin and she needs a queen.
Here's the hot mess…just waiting to be bound.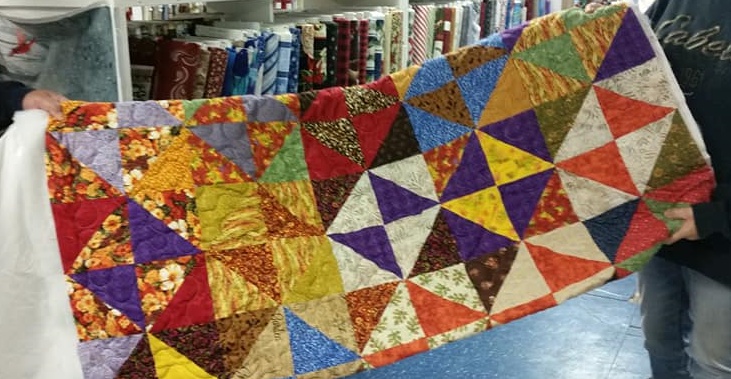 In December, I did buy some fabric to accompany my scrap quilt for Pat, and it's how I came upon the idea of giving her the quilt.  She loves to sew, and look at what the alternate squares of the quilt say…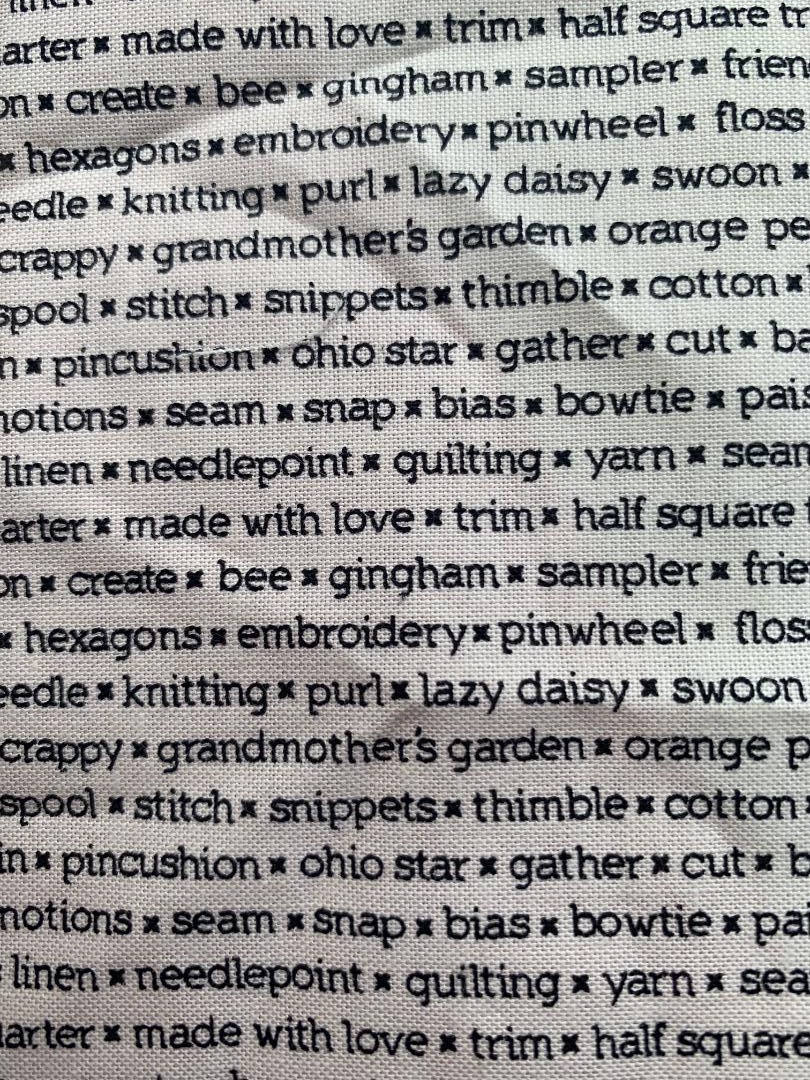 TV..we're watching more Amazon Prime and going to the movies less.    Living in the country, even though I try and shop local, I still use Amazon Prime a lot.   It's a must for getting things that I can't get locally (outside of Bristol/Kingsport/Abingdon).    Prime has lots of shows and movies we enjoy.   We just had not noticed them before except for the show Justified which we binge-watched last year.
And speaking of Amazon, there's been a couple of time I've been invited to write a review for a product or service that I've used.     If the review was selected, I received a $20 gift card which I've converted to Amazon.   I thought it sounded too good to be true, but I've written three reviews; two of the reviews were accepted and I have $40 in my Amazon account.  Go figure.  I'll use that free money for something that comes up as a need–or a want–in the next 6-8 weeks.  I've actually got my eye on something but I'm $17 short.  Maybe another review will come through!!
I've got a pantry to clean…projects to work on that cost nothing but need to be done.  I've got the inside of a hutch that needs painted.  All of those are coming up in the next few weeks.  When I get up in the morning and look around and realize that  going somewhere is not an option, I start thinking of what else can be done.  My productivity increases.
But it's not been perfect. There is that trip to Target.   I realized that I do not have more than 6-8 rolls of paper towels in the garage this week.  No way!!    For some crazy reason, I like to have a lot of those on hand.   I've wondered if other people like to have toilet paper and paper towels on hand like I do.    Then..I saw where Target had the "Spend $50 on household items and get a $15 gift card" and "Spend $15 on skincare and get a $5 gift card."    I picked out what I wanted for my $50 — paper towels, toilet paper, dish detergent and SOS pads.  I picked out what I wanted for my $15.   I went to Coupons.com and got a few coupons.  I went on my Target ap and found any Cartwheel discounts and coupons.   I used my Red Card for an additional 5%.  I also bought catfood because I needed it.   I left spending $102 with tax but I had $20 in gift cards and all stuff that I need or will need.  I could have turned around and used the gift cards then if I'd broke up the order and spent about $82, but I hold onto them.  So far, with these cards, Mike and I bought for a child at Christmas (last year),  bought several Christmas decor items after Christmas for the following year, etc.   They come in very useful, and I typically get about $200 in gift cards throughout the year–I buy all my paper towels and toilet paper for Adventure Mendota at Target so I accelerate the amount of gift cards in the summer months.    It's really fun the day I pull them out and pay nothing for approximately  $200 in purchases.    I feel like a thief!! The important thing is that I cannot charge any purchases at Target.  I have to pay for them as the Red Card I have  is a debit card–not a credit card.
Something else…  If you have ever seen Bellasforward advertise their Hallmark stuff, they have very nice pictures and they have sales that pop up on Instagram and Facebook.   They also have free shipping if you buy XX amount.  Here's the warning.  The quality is okay but it's not as nice as pictured; and if they tell you 14-16 days for shipping, plan on 28-30.   It is from China and I would not order from them again.    I ordered items which should have arrived just before Christmas.  They arrived today.   Sigh.  I'll save them for next year's gifts.  Here's the picture in the ad.  It looks soft and lush with a rich, deep red.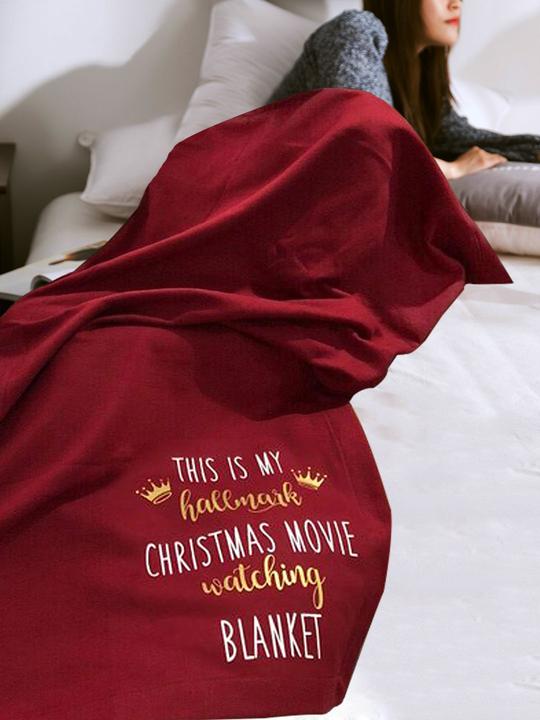 Here's what I got when it finally arrived.   I paid $19.99 for that blanket and thought it was a bargain as it said it was 60% off.    Not so much.   I'm a little disappointed.  The socks are cute though.  I'll save them for next Christmas.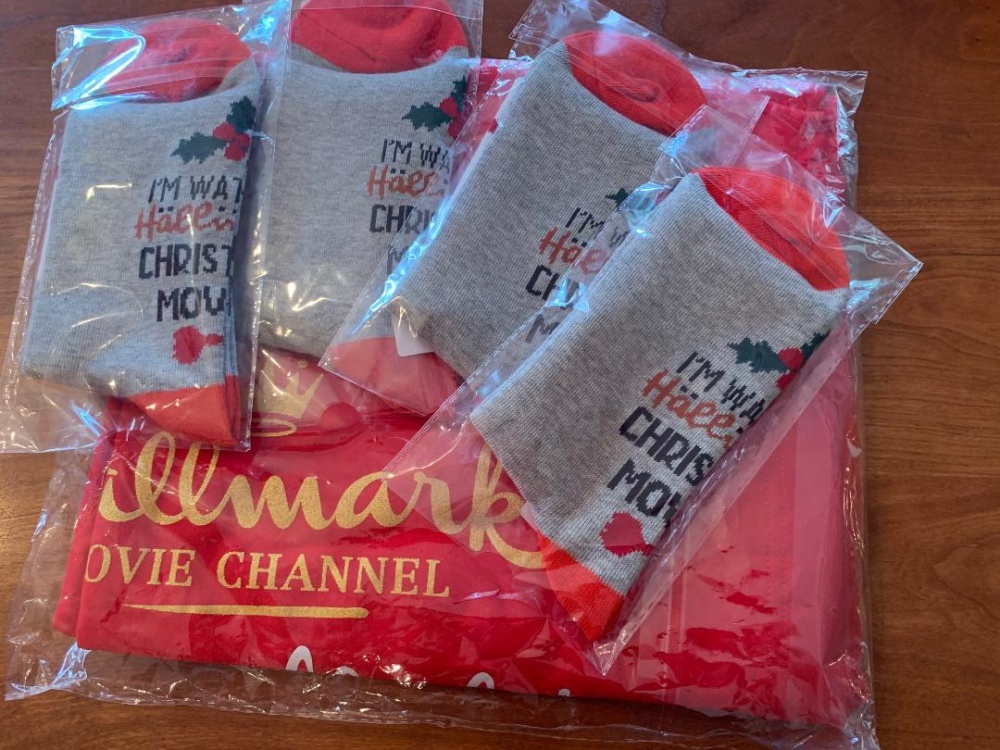 Spending less, eating out less, using my gift cards wisely, being creative, being resourceful…all of these will help me meet my savings goal.  However, there's the occasional misstep.   Sometimes no matter how hard you want to think you've scored a good deal, it's just not.
(14)