I love snow.  I hate winter.  We have no snow, so I am hating winter.
I have spent more time than I should on Pinterest and decided I need a new kitchen.  It's not going to happen — at least not for a year or two.  I have had a white kitchen and the cabinets turned yellow, but that was 20 years ago.  I assume things are much better now.   At any rate, I want a lighter kitchen.  At the same time, I'm grateful for the kitchen I've had for the past 19 years.
But…at this time of year, I am always a little down.   I'm very busy so that helps but still….yucky.    I normally turn to organizing, but I don't even want to do that.   What does cheer me up are green plants.    I so miss Evergreen Garden Center's Bristol location.  I used to walk through the greenhouse during the winter and enjoy the way it felt, smelled and looked.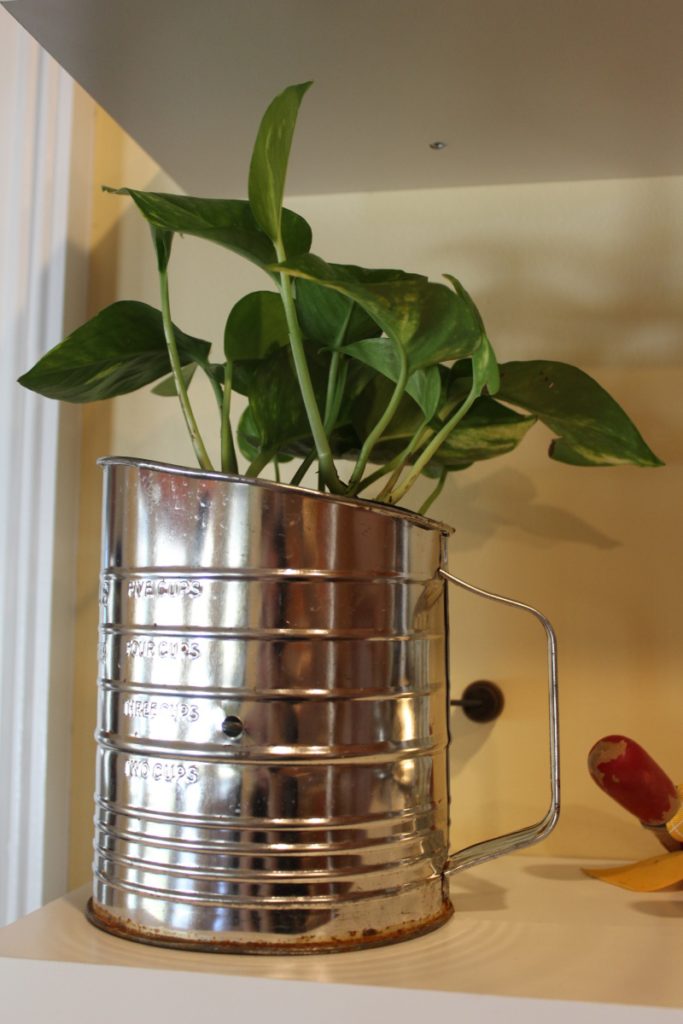 I started moving plants into the kitchen.    The first thing I did is have Mike put these two small shelves up.  I got them at Lowe's, and while they can't hold more than about 10 pounds, I like that they are "floating" and you can't see the hardware.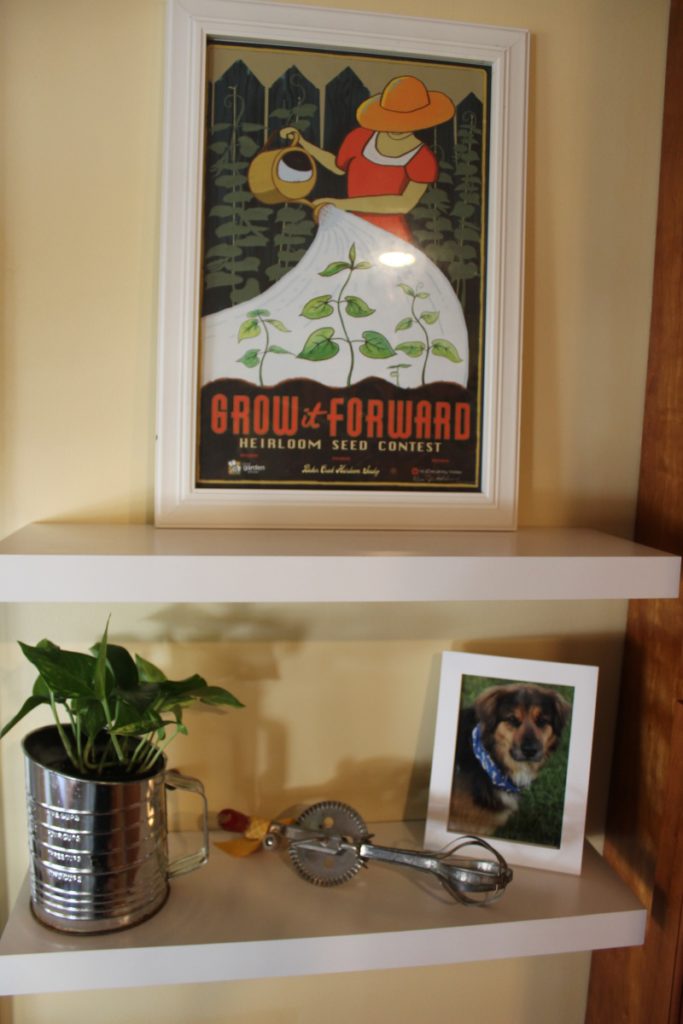 I did not mean to leave River's picture there, but there it is.  I took the old sifter that reminds me of the grandmother I am named after and put a plant in it.    I put an old mixer that also reminds me of her beside it.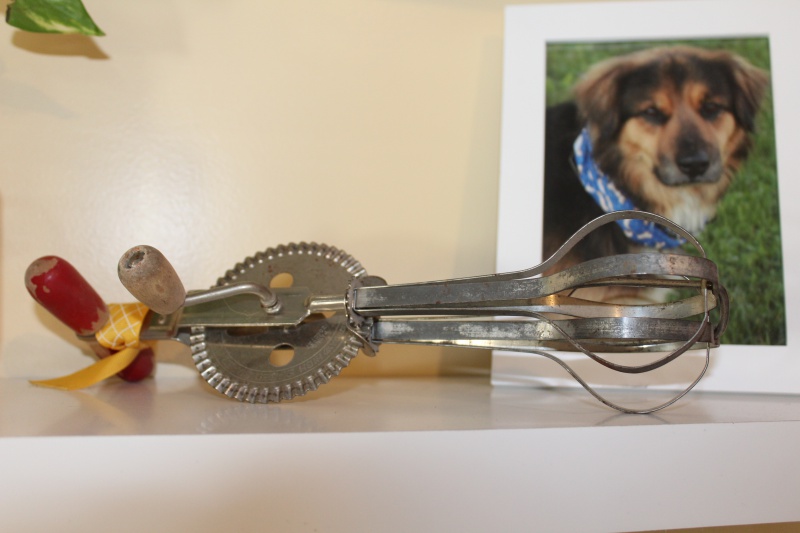 Now, when I walk by it, I think of her.  She always smelled so good because she had a "bubby" bush and she kept the dried bubby flowers in her apron pocket.
Put some plants on the cabinet.  I've been rotating them with others in the house so they don't start to look "poorly" as it's not the best location for them.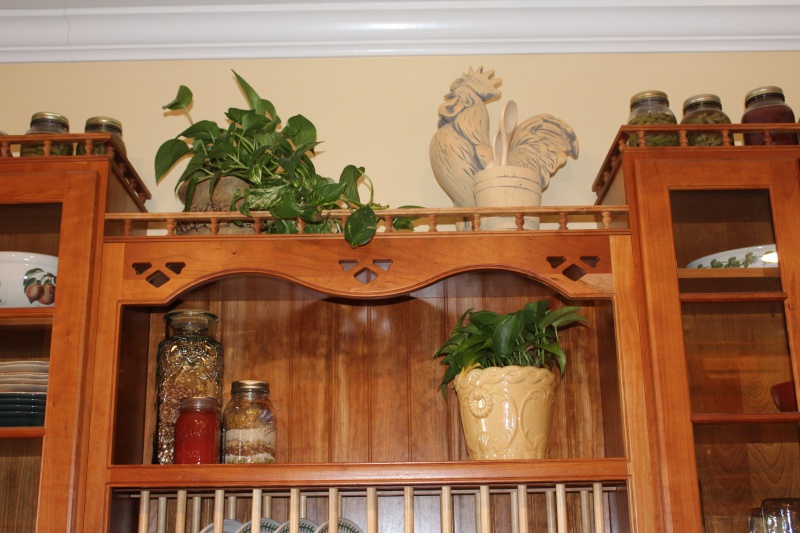 Made a little vignette in the corner and put a plant there as well.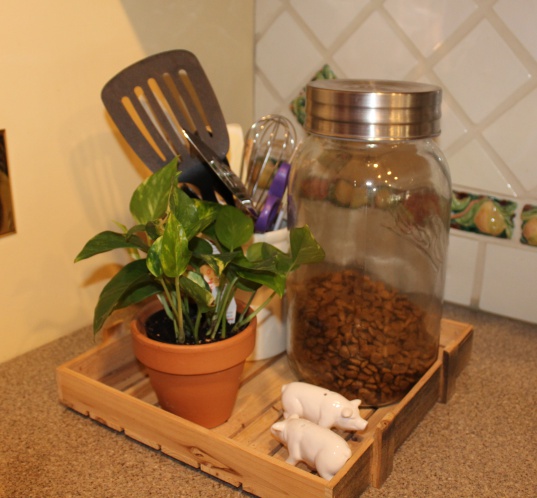 The Sweetest Girl Ever DeeDee got me those little piggy salt and pepper shakers from Magolia Market.   I love them.  I think of her every time I go get dog food from that jar.  The little house plant makes me happy as well.  Here's a close up.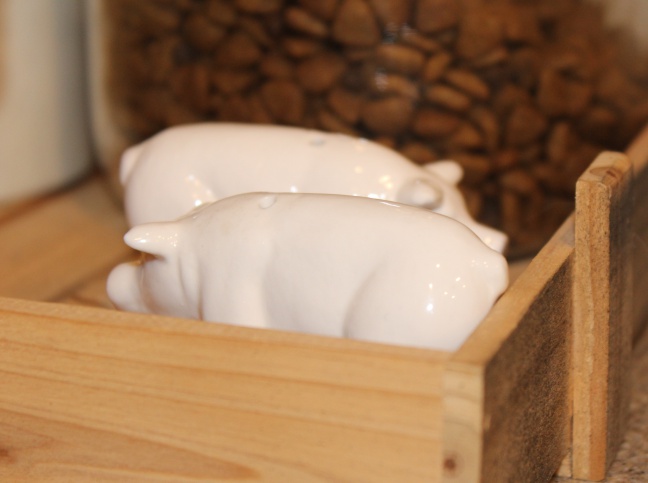 Oink.
Here's something else I finally put on the wall.   Neth made me this clock during his freshman year at college.  Two years ago!!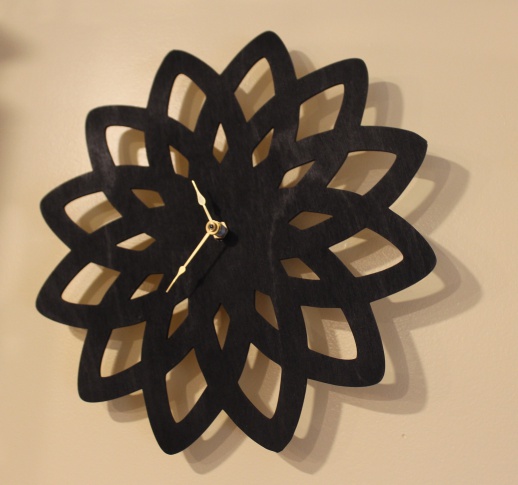 I love it.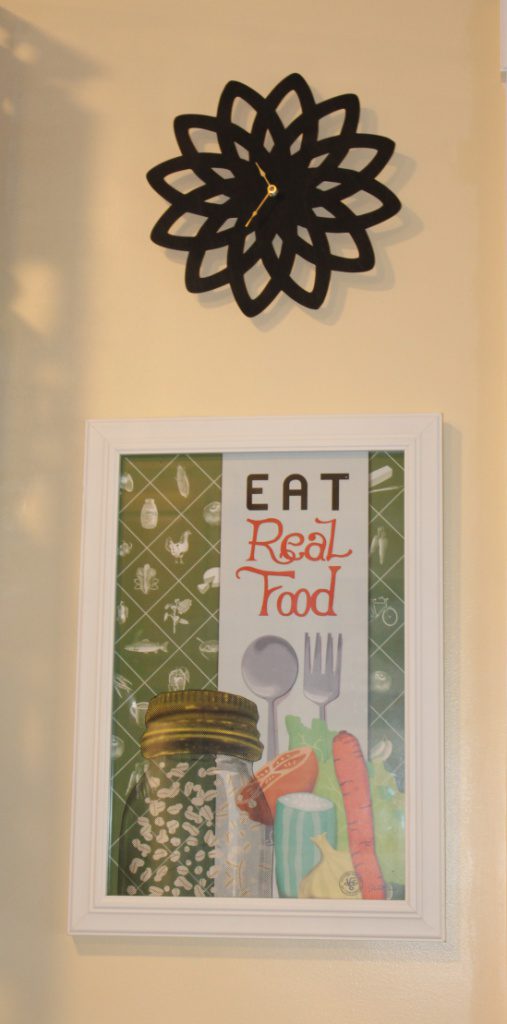 These are the worst pictures ever.
I even put plants in my pot rack.  Pot racks are out of vogue for the moment, but I still have mine.    My kitchen isn't bright like I want it but it is warm and friendly.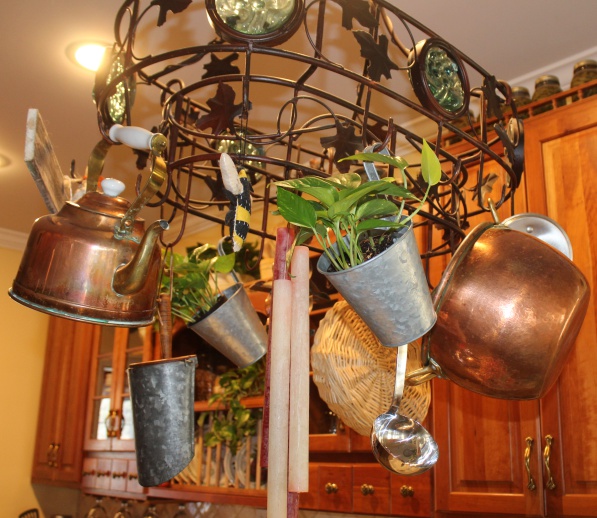 I'm feeling better just looking at those houseplants!!!   Does winter make you BLUE, too?
(22)