A few weeks ago I wrote about a stray cat that had joined the feral cat that we have been feeding.   He hates my cats and terrorizes them.  However, for some reason, he took up with this little black and white stray.    He's  a neutered male, and he's sweet in a completely dysfunctional type of way.   When I pet him, he arches his back to be petted yet  hisses at the same time.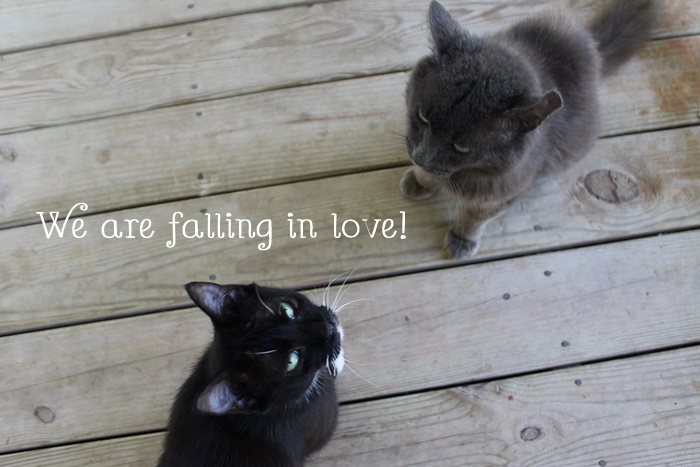 I thought the black and white cat looked pregnant so I made her an appointment about ten days ago, but we had something go awry here at the house, and Mike could not take her for the appointment.  We missed it.  It's an ordeal to take a cat to the vet because as we drive out, they always are frightened and always are sick from the car ride, so it's not something we just do — we plan it.    But we didn't get there.    We had our own doctor and dental appointments, cars that had to be taken for service, and so on and so forth.   We didn't get to the vet.  How irresponsible is that?   But, at any rate, last night she had five kittens.
I knew something was amiss yesterday.   She…I call her Lilly after a saloon girl in an old tv show, was very clingy to Muffin, the gray feral.   She wanted to lay with him on his pillow, but he wasn't really about sharing that pillow so she sat on the edge of the chair.  Muffin has filled out quite a bit since I wormed him.   He's due another round.  I want to get him to the vet but I haven't figured out how.  I can't imagine riding in a car with Muffin in the cat carrier.  I can't imagine getting Muffin in the cat carrier for that matter.   If there are any vets wanting to go kayaking, I'll cut you a deal if you'll come up and vaccinate Muffin!!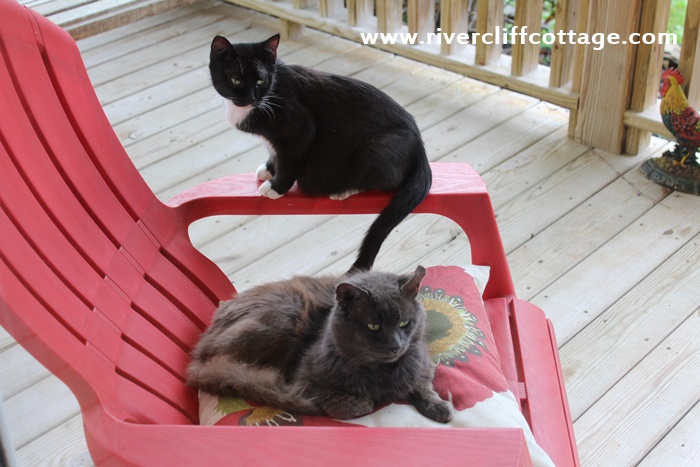 Last night, Lilly was so tired.  She curled up in her bed and seemed completed exhausted.  So much so that I  slipped her little bowl in with her so she could eat.   I suspected that the kittens were coming.    By 11:00, I went out and she had one kitten.  An hour later, there were FIVE kittens.  Did you know each kitten may have a different father?  My goodness, Lilly, what and who did you do?     
I decided to embrace these kittens.  I love kittens, but I never allow a cat to have them for obvious reasons.   However, these are here, so I'm going to enjoy them, socialize them and hope I can find them good homes.  If not, well, I'll be the woman with NINE cats.   Here they are.  They can "mew" very loudly.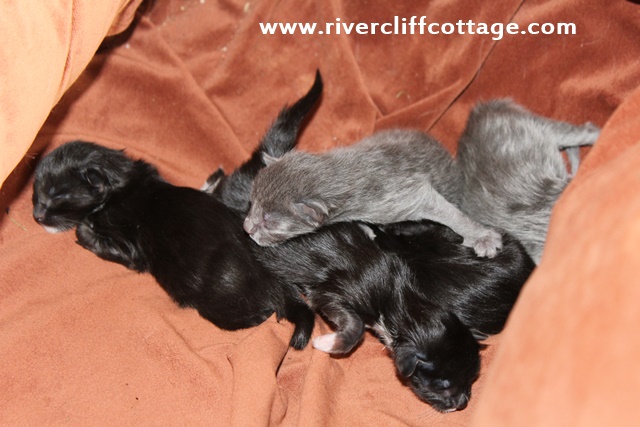 I"m thinking where I can put these kittens in the next few weeks where they can develop, socialize and not be harmed.   My biggest fear right now is that Lilly will lie down on them and smother them.  They sleep about 90 percent of the time, and I go out and check to make sure no one has gotten smothered.  So far…so good.
I'll keep you posted. They are my new fascination.
(14)